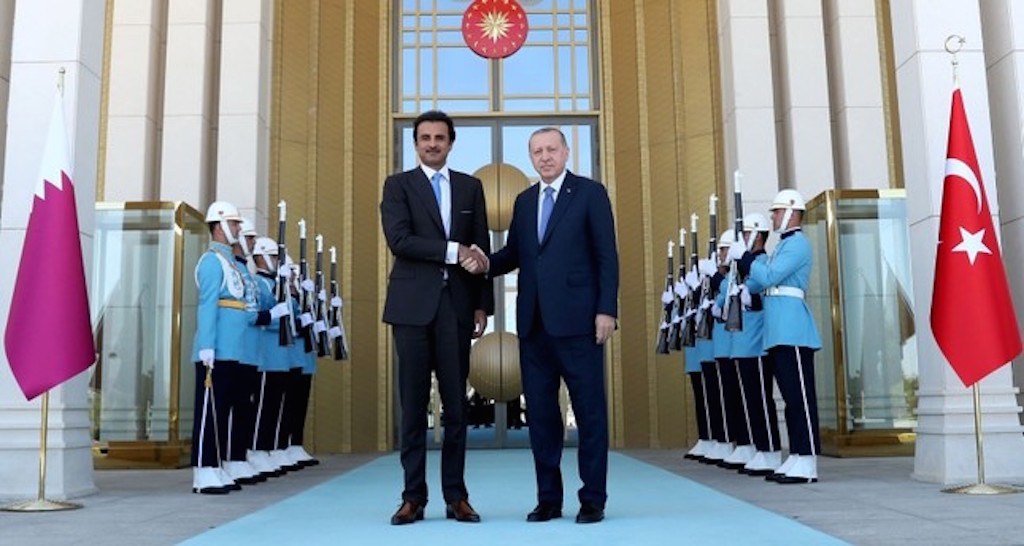 Turkey's response to mounting U.S. economic pressures was not only the raising of tariffs on American cars, tobacco and alcohol but also a currency swap agreement that the central banks of Qatar and Turkey signed in the Qatari capital Doha, after Qatar pledged $15 billion of investment package in Turkey on Wednesday, August 15, 2018.
Qatar's bid was an attempt to help Turkish economy stay afloat following the American series of sanctions.
Speaking about his meeting with the Turkish leader, that regarded the Qatari investment, Sheikh Tamim said, We stand by our brothers in Turkey that have stood with the issues of the Muslim world and with Qatar.
Today, in the framework of important negotiations with His Excellency President Erdogan in Ankara, we announced a package of deposits and investment projects worth $15billion in this country, which has a productive, strong and robust economy."
The country's Ambassador to Turkey, Salem bin Mubarak Al Shafi, also commented on the deal, saying that "The State of Qatar is always proactive in supporting its Turkish brothers."
The signing of the agreement
Two days later, came the deal signed by the Governor of Qatar's Central Bank (QCB), H.E Sheikh Abdullah bin Saoud Al Thani, and the Governor of the Central Bank of the Republic of Turkey, Murat Cetinkaya.
Practically speaking, the step of this two-way currency exchange line means significant improvement of bilateral co-operation between Turkey and Qatar and their two central banks as well as reinforced trade and investment.
According to the official Qatari press release published on its website on Sunday, August 19:
"Doha, 17 August 2018  Qatar Central Bank (QCB), and the Central Bank of the Republic of Turkey (CBRT) signed a Currency Swap Agreement to promote bilateral cooperation between the two central banks by establishing a two-way currency exchange line.
The signing ceremony was held at the Qatar Central Bank headquarters.
The agreement was signed by HE Governor of Qatar Central Bank (QCB) Sheikh Abdullah bin Saud Al-Thani and HE Governor of the Central Bank of the Republic of Turkey Murat Cetinkaya.
The swap would facilitate exchange of trade between the two countries while providing liquidity and support for financial stability.
A number of officials from both sides attended the signing ceremony.​"
As state-run Anadolu news agency reports, "The agreement will also contribute to the enrichment of reserves of both countries", while "The funding for the first phase of the deal is expected to be worth $3 billion.".
Last week, U.S. Treasury Secretary Steven Mnuchin warned that Washington could go further with action against Ankara if Turkey did not release Brunson soon -the American pastor being the actual reason for the ongoing hard financial "game" between the two sides since the States decided to impose sanctions against Turkey in order to corner the country and force it to release him
On Saturday, however, Erdogan remained adamant about the policy that Ankara follows clarifying that nothing would be changed undeterred by the American sanctions and the overall economic suffocation…. / IBNA
Main Photo: Turkish head Recep Tayyip Erdogan (R) shaking hands with the Emir of Qatar Sheikh Tamim bin Hamad Al-Thani (L) shaking hands prior to their talks in Ankara, mid of last week, August 2018