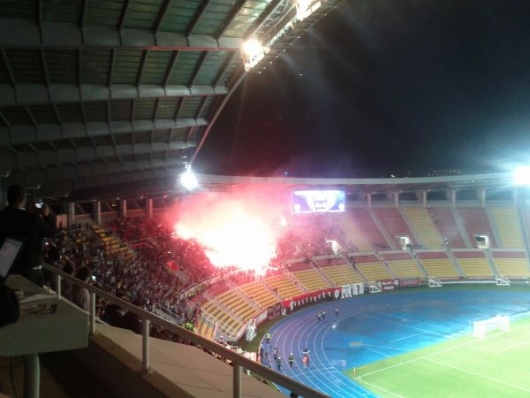 Skopje, May 23, 2013
The cup final of FYR Macedonia between Shkëndija and Teteks has been suspended last evening amid nationalist chants by fans.
The match was suspended in the first 15 minutes of the game following nationalist chance by fans from both teams. FYR Macedonian fans chanted "gas chambers for Albanians" and on the other hand, Shkëndija fans have chanted "UÇK, UÇK".
The decision to suspend the match was warned by the FYR Macedonia Football Federation and was announced to both clubs and their respective fans. Nonetheless, the chants and booing have started since the very first minutes of the match. After the delegate of FYROM Football Federation, Toni Stojanovski talked with the referees and leading board, the match was suspended. During the first 30 minutes of the match, there were two interruptions. Players have asked the fans to stop these chants, but these calls have been futile. At the end, the order was given to suspend the match, which was not in favor for any of the clubs due to the heavy rain in the stadium of Skopje.
Coaches of both teams have condemned these nationalist chants, expressing their regret for the politicization of sport.
"The match didn't start like it should have and it ended in an ugly way. Unfortunately, this means that sport is under the claws of politics and we don't want this. We will do everything to get ready for the victory match", said the coach of Tetekst, Gorazd Mihajlov. The same attitude was manifested by the coach of Shkëndija, Artim Shaqiri.
"We are sportsmen and we only think about what happens on the field. I'm really sorry about what has happened, which is part of politics. This must be discussed by the heads of the two clubs. We must focus and achieve the victory", said Shaqiri.
The cup final is expected to be played on Sunday without the presence of fans in the station and this decision is expected to be finalized on Thursday. /ibna/