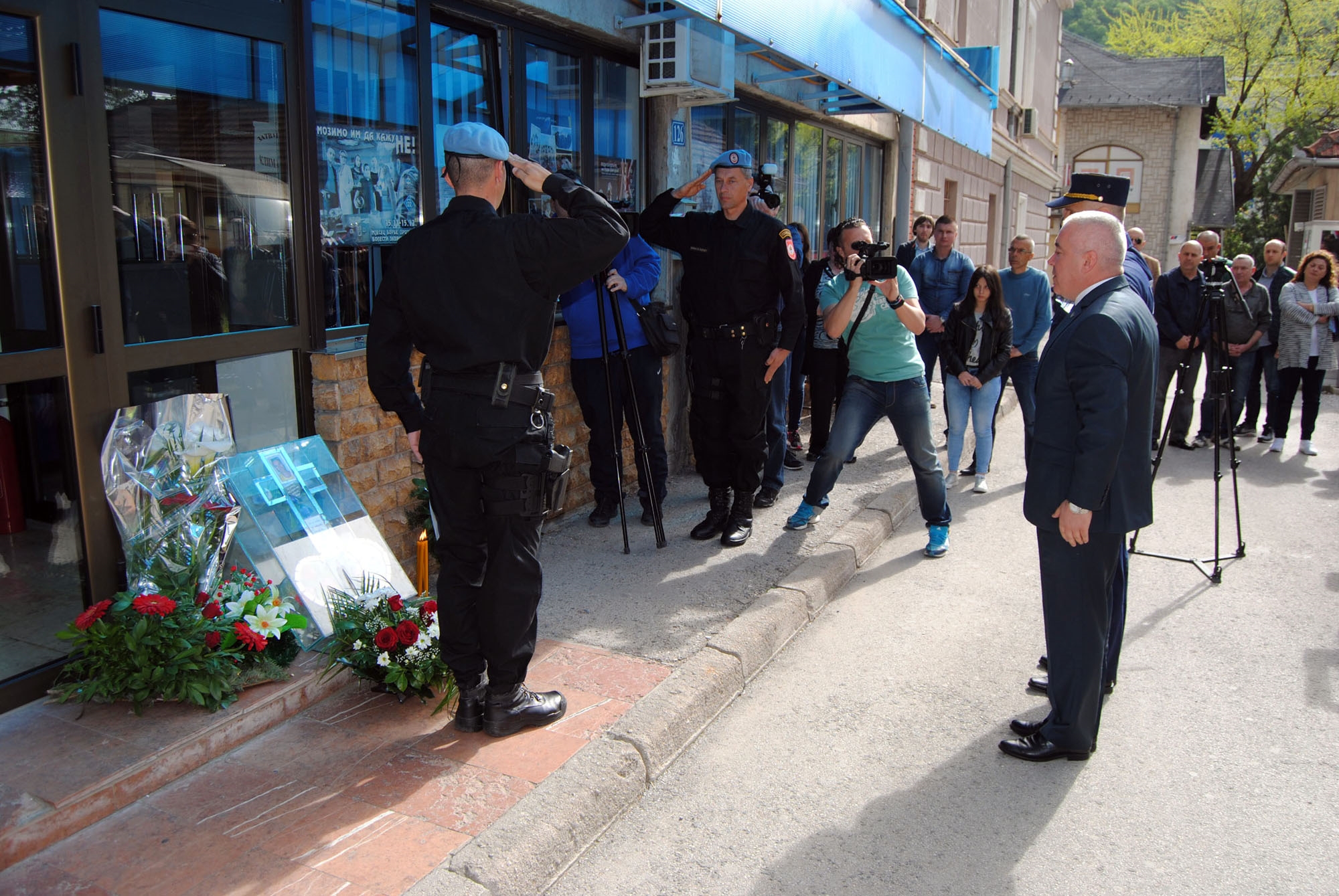 RS Police Director, Darko Culum, stated on Thursday in Zvornik, city on the far East of BiH, that the risk of terrorism is real and that every citizen in the country must be aware of that.
Culum participated on ceremony which marked the two years since terrorist attack on police station in Zvornik, when one police officer, Dragan Djuric, was killed. Police officers Stevo Milovanovic and Zeljko Gajic were wounded. Attacker, Nerdin Ibric, came in the front of police station in Zvornik and opened the fire on Djuric, who was outside of building. Ibric then came into the station and continued to fire and wounded two officers. He was killed on the spot by other officers. Later investigation showed that Ibric often visited the radical islamist mosque near his village and that he also had radical ideas.
Culum stressed that this was not the only attack on members of security forces in the country. One of these attacks was one on members of BiH Armed Forces in Sarajevo. He added that the RS Ministry of Internal Affairs recognised the risks and dangers of terrorism and created an organisational structure and capacity to raise fight against terrorism on higher level, especially on the prevention and protection and detection of terrorist acts.
Commenting on the statement of several politicians on state level, who are assuring the public that BiH does not have a terrorism issue, Culum said that he could not comment on other people's statements, and that he commented on facts.
"The last five terrorist attacks in BiH were carried out by radical islamists, members of the Salafi-Wahhabi movement, their followers and former veterans of the El-Mujahid unit. These are the facts", explained Culum.
He added that parallel jamaats, which are outside the control of the Islamic community, exist in BiH, and these are facts which no one can dispute.
Members of the family of the murdered police officer Dragan Djuric laid flowers to his grave. Culum, accompanied by Head of the Zvornik Police station, Goran Abazovic, and Djuric coleagues also paid respect to the murdered police officer.
Abazovic said that the Djuric had been a dedicated and outstanding professional, who was tragically killed on the job.
"Even though it has been two years since the terrorist attack, we have not seen any judgement of the court, and it is very disappointing for us and the family", Abazovic said.
Andjelko Djuric, a brother of the murdered police officer, said that the Djuric family were not satisfied with the work of the Prosecutor's Office of BiH, which has not reported anything on this case for two years.
"The Djuric family lost one of young and innocent members", Andjelko said./ΙΒΝΑ