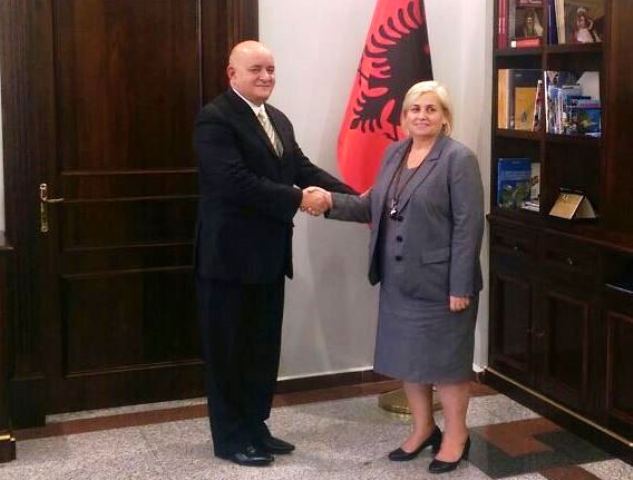 Tirana, 17 October 2016/Independent Balkan News Agency
Albania, a former communist country up to 26 years ago, is approaching with communist Cuba, which is opening more to the world, for purposes of trade and tourism.
Albanian Minister of Economy and Tourism, Milva Ekoni spoke about this in a meeting held in Tirana with the ambassador of Cuba in Bulgria, Pedro Pablo San Jorge, who also covers Albania (photo).
Ekonomi said that the trade and economic ties between Albania and Cuba are far from the potential that exists. She expressed the need of signing a Memorandum of Understanding, which will promote further bilateral relations followed by memorandums of economic cooperation, investments and tourism.
The Cuban ambassador says that Cuba is trying to attract foreign investors in the country. He says that the country has been successful with many EU countries and is now setting its sight to Albania.
"I appreciate the possibilities of economic cooperation between the two countries and I can see that there exist many commercial opportunities between Cuba and Albania. Albanian investments in Cuba are welcome", the ambassador says.
He also expressed his readiness for cooperation in tourism, especially in attracting investments in sea fleets and golf fields and also attracting Albanian investments in the domain of energy, especially power supply generated by water and wind, considering Albania as very experienced in the domain of hydro electricity.
The Cuban diplomat says that there's lots of interest to export Albanian products to Cuba. In fact, Albanian exports of dairy products, olive oil, honey and medicinal plants are now very successful worldwide. Now it is Cuba the one that wants "Made in Albania" products to reach its markets. /balkaneuc.com/