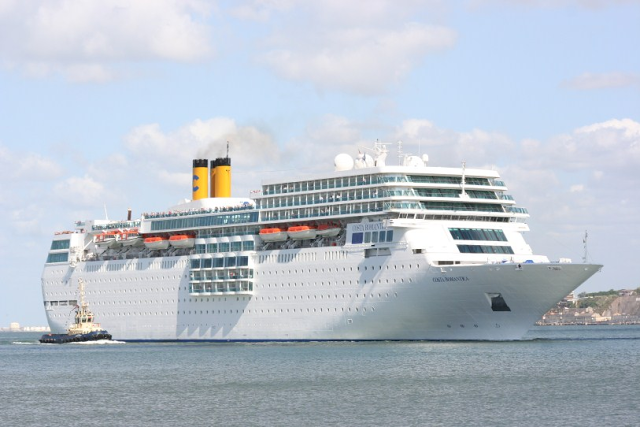 Sofia, May 6, 2016/ Independent Balkan News Agency
By Clive Leviev Sawyer of The Sofia Globe
In spite of optimistic forecasts earlier in 2016 that cancellations of cruise ship visits to Turkey because of terrorist attacks in top tourism destinations such as Istanbul would mean a diversion to Bulgaria ports, it seems the attacks in Turkey have had the opposite effect.
In recent years, Bulgarian ports have benefitted from instability in other countries in the region, such as the re-routing of vessels to Bulgaria's Black Sea harbours instead of going to Ukraine.
The eve of the first weekend of May saw cruise ship Costa NeoRomantica docked in Bulgaria's Black Sea port of Bourgas, with about 1300 passengers in board. But by the end of the year, no more than eight cruise ships are expected at the port – that is, if none is cancelled.
Port Bourgas director Diyan Dimov told local media that this year, more than 400 visits to Istanbul had been cancelled as a response to terrorist attacks in Turkey's largest city.
He said that after the terrorist attacks in Istanbul, the danger that no cruise ships would enter the Black Sea was "more than 100 per cent".
"This is the first ship to pass absolutely all Turkish ports and not visit the port of Istanbul," Dimov said. Until now, all cruise ships that visited Bourgas and the Black Sea had first visited the port of Istanbul before entering the Black Sea.
Dimov said that a serious problem for the development of cruise tourism in the Black Sea was the increased fees for crossing the Bosphorus. In 2012, the fee was $5000, and now, for a ship slightly larger than the Costa NeoRomantica, the fee was $150 000.
"And the problem remains of the situation in Russia and Ukraine," he said.
Ninety per cent of cruise companies were American-owned and according to Dimov, for the past two years this region had been regarded by them as off limits. Only two major European operators were active in the Black Sea.
The only basis for optimism was that some companies had not yet prepared their cruise ship schedules for the coming years, and if the situation in Ukraine normalised, interest in the Black Sea would revive. The Bourgas port was financially beneficial for the companies, Dimov said.
Tour operators also expect a poor season. Vladimir Karadzhov cited the same reason, the exclusion of Turkey by cruise companies.
"For this reason, the last stop before our ports is Piraeus. And from Piraeus to the Black Sea, the distance is quite long and the cruise companies cannot afford to have ships sailing from Piraeus to the Black Sea without stopping anywhere," he said, also adding that passing the Bosphorus cost a lot of money.
The fees charged at Bulgarian ports were quite competitive, he said, but even if they were removed completely, this still would not mean a return to the number of visits recorded a few years ago.