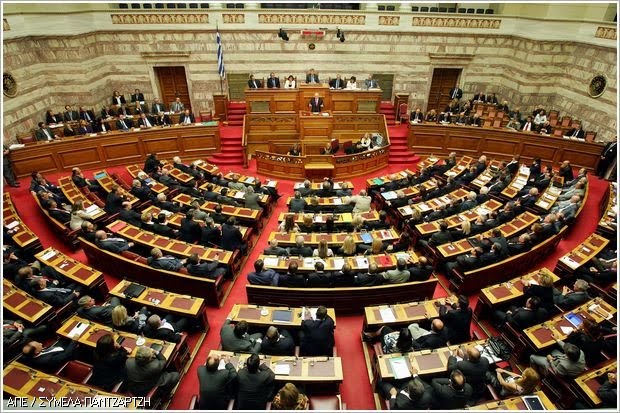 By Lefteris Yallouros – Athens
Greek Prime Minister Antonis Samaras and deputy PM Evangelos Venizelos held a meeting at the Maximos Mansion in Athens on Monday just a few days before troika auditors are due to return to the country.
The heavy political agenda ahead of the next troika inspection was discussed at length. Prior actions demanded by the troika in order for Greece to receive the next tranche of its rescue loan will need to be ratified in Parliament.
Furthermore, legislation will also be introduced allowing the sale of the so-called "small" Public Power Corporation (DEI), a spin off of the country's Public Power Corporation (PPC) which will include 30% of its assets and liabilities and is set to be sold to private investors. The privatization is also part of the troika-set prerequisites for the disbursement of rescue loans.
The bills to be introduced in Parliament are expected to spark a heated debate as opposition parties have strongly reacted to news of the PPC spin off being sold. Samaras and Venizelos are keen to ensure there are no objections raised from within the coalition. PASOK MPs have demanded any bill brought to Parliament includes provisions ensuring that PPC's current employees are kept on and their current contracts remain intact. The party also seeks assurances that power plants across Greece will not be shut down.
Evangelos Venizelos told reporters following the meeting with the PM that assurances will be given and that he expects the vote in parliament to unfold smoothly for the government.
From within the socialist party, however, there are also fears that the sweeping legislation with which prior actions will become state law will also be difficult for the government to see through without objections. Thorny issues such as the legal framework for business permits, health coverage for the uninsured, taxation and lowering profit margins for pharmacists are expected to be debated strongly by MPs looking to safeguard the interests of their constituencies.
Having said that, since the laws will be brought to the summer sessions of the House, the governing majority has the option of replacing deputies who disagree with legislation introduced, with others that are certain to vote in favor. In any case, a political crisis looks to be highly unlikely given the circumstances, according to government officials.
Earlier, in his account of the Greek EU presidency which officially ended Monday, Venizelos ruled out the possibility of an early general election being called while stressing the fact that the era of single – party governments is over.