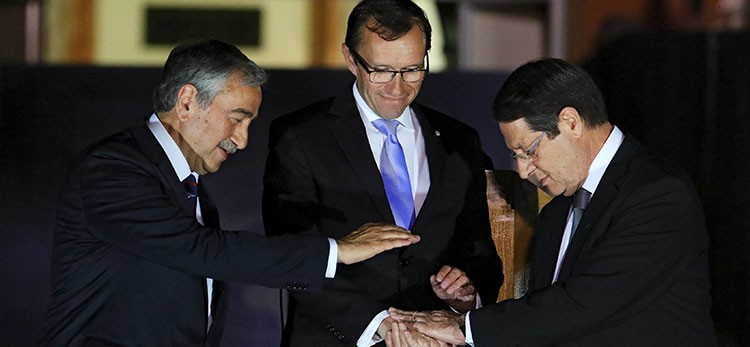 Nicosia, June 5, 2015/ Independent Balkan News Agency
By Kyriacos Kyriacou
New crossing points, the possibility of reducing military forces along the ceasefire line, facilitating the expansion of trade measures, creating a "peace park" in the buffer zone and measures for the accession of experts to the fenced off area of Famagusta are included in a list of Confidence Building Measures that the Greek Cypriot side has proposed to be adopted in parallel with the negotiations with the Turkish Cypriot leader to solve the Cyprus issue, which to unify the divided island since the 1974 Turkish invasion.
The list, that was handed over on Thursday by President Anastasiades to the members of the National Council, included also medical examinations for Turkish Cypriots in hospitals located in the government-controlled areas of Cyprus.
The crossing points include those of Dherinia and Lefca, that have been announced by the leaders already, and also those of Kokkina, Pafos Gate, Piroi, Kaimakli and Potamos Kampou-Kampos.
The two-page document given to members of the National Council by the President, also includes the unification of electricity and telephony and data collection for the issue of the missing persons.
"I have given the list of the measures to the members of the National Council, exactly what we have proposed. And what we seek is to maintain the good climate and not to concentrate on the confidence-building measures, but on the substance [of the Cyprus issue] which will [in itself] solve many of the proposed measures," Cypriot President Nicos Anastasiades said after the meeting.
Turkish Cypriot leader Mustafa Akinci sounded an upbeat note on Thursday, saying he looked forward to "productive negotiations" leading to a settlement of the Cyprus issue over the next few months.
"Hopefully, we will achieve a mutually acceptable solution in months, rather than years," Akinci told reporters in New York coming out of a half-hour meeting with United Nations Secretary-General Ban Ki-moon.
The new Turkish Cypriot leader, elected on a plank to push for peace, repeatedly alluded to a positive climate shaping on the island.
Akinci said the UN chief was "very satisfied" with what he has heard from the leaders and from UNSG Special Adviser Espen Barth Eide.
Whereas Cypriots are the main actors in the drive for a lasting settlement, Akinci said, he welcomed the engagement of the international community, including the European Union, as well as Cyprus' guarantor powers – Greece and Turkey.