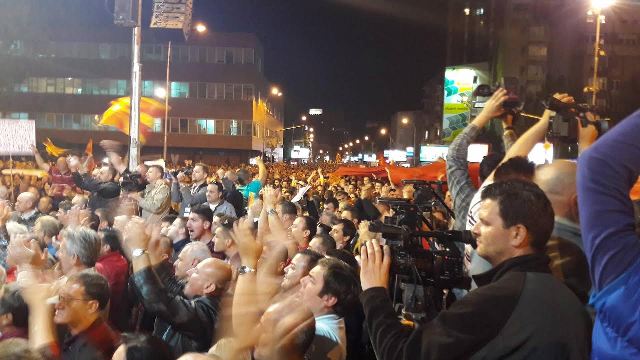 Relations between the two largest ethnic groups in FYROM, Macedonians and Albanians, are dominating the 11 December election campaign which is coming to an end. Equality between the two ethnic groups, federalization and redefinition of the state are some of the options that have been unveiled by political parties during the campaign.
VMRO-DPMNE, the largest party in power led by Nikola Gruevski, is accusing the leader of the Macedonian opposition of planning to federalize the state and the use of Albanian language as an official language in all of the territory.
But the opposition has denied this by saying that Gruevski is making this up. Foreign Minister Nikola Popovski, who is a candidate MP for VMRO-DPMNE, said that in several cases, the opposition leader has signaled the option of federalization. "During this period, he has given several definitions and elements that relate to the federalization of the country. These elements had to do with local government, police and high security institutions", Popovski says.
Former PM Nikola Gruevski has accused the opposition leader, the social democrat Zoran Zaev of trying to federalize the country.
But in all meetings, Zaev has said that these are lies. "Federalization is in Gruevski's head. Our Constitution is clear and it guarantees the rights of all our citizens", Zaev said, adding that there will be no changes of the Constitution or any laws as far as the advancement of the rights of Albanians as the second biggest community in the country is concerned.
Albanian parties say that this debate on the issue of federalization which was used during the campaign by the two largest Macedonian parties is only a game to benefit more votes. According to them, Macedonian opposition led by SDSM (Macedonian Social Democratic Union) is trying to benefit the votes of the Albanian community, as part of its lists are also Albanian candidates.  Meanwhile, through these accusations against the opposition, VMRO-DPMNE is trying to hold on to its voters and gain more through the nationalist card.
"I don't think that SDSM will benefit any votes from the Albanian voters through these maneuvers. It is impossible for this party to turn into the party that saves Albanians", said the leader of BDI (Democratic Union for Integration), Ali Ahmeti.
Meanwhile, the leader of the Democratic Party of Albanians, Menduh Thaci, says that a new political agreement must be reached between the two largest communities to overcome all disputes that are acting as an obstacle for the country.
"We are engaged for a political agreement which offers Albanians equality, because so far they have been discriminated", Thaci said. /balkaneu.com/