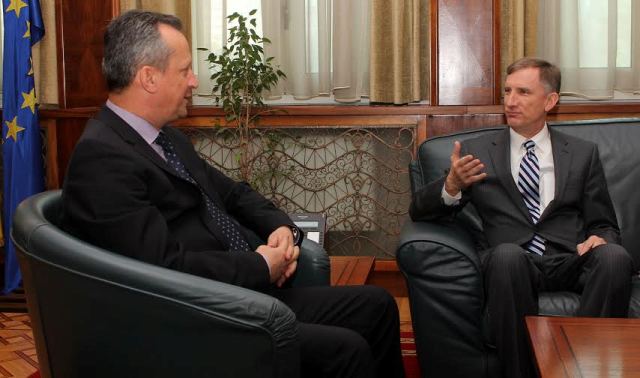 Skopje, January 16, 2015/Independent Balkan News Agency
By Naser Pajaziti
US ambassador to Skopje, Paul Wohlers has offered several messages for the country's politicians before he leaves office.
Wohlers warned a growing division between ethnic groups, stressing that stability of this country is in the best interest of not only the Balkan, but the entire Europe.
"There's a need to improve cross ethnic relations. I fear that both communities have grown their differences, instead of approaching, because it's very important for Macedonia to solve this issue. Government and opposition must work together, given that this is a problem that cannot be solved by a single person. It's important for all the citizens to be loyal and work in the best interest of Macedonia. On the other hand, the state must also be loyal with the citizens and work for them", said ambassador Wohlers.
Wohlers also talked about the obligations that must be met for the full integration of the country in the NATO and EU. According to him, the solution lies in the solution of the name dispute and rule of law are crucial elements for the progress of the country.
"The solution of the name dispute is the key for EU and NATO accession. It's important for you not to give up. I know that several people have lost their motivation, become cynical and are worried about the fact that the country is not in the NATO. We're worried too. We want your country to become a NATO member. We will continue to work and see what happens in Athens after the elections, but I'm optimistic that in the future, there will be success, because there's no other alternative. This is the future of Macedonia", added the US ambassador at the end of his term in office and after the meeting with the speaker of parliament, Trajko Veljanovski.
Mr. Wohlers will be replaced in this office by the new US ambassador, Jess Baily. /ibna/