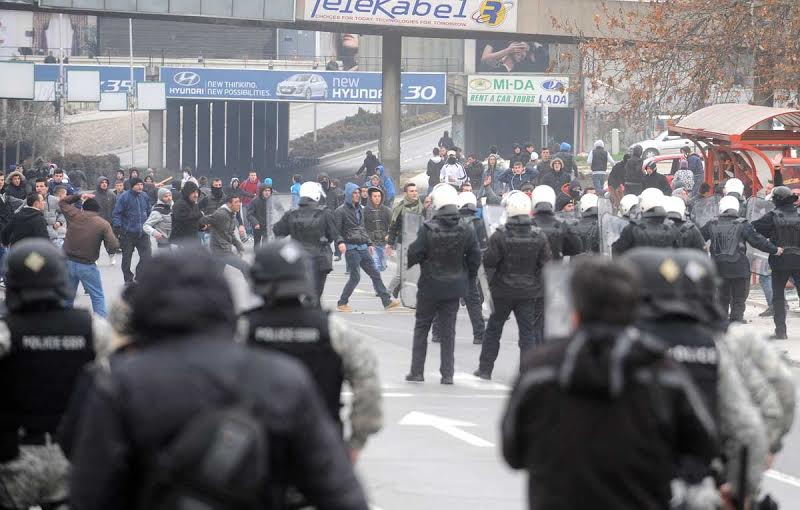 IBNA Special Report
Skopje, November 27, 2014/Independent Balkan News Agency
By Naser Pajaziti
Cross ethnic relations continue to dominate the current developments in FYROM. Some of the latest problems that have sparked debates related to the beatings and different incidents between Macedonian and Albanian students, institutional discrimination pointed out by non Macedonian parties and associations, the lack of will for the use of both languages in Skopje or the use of the Albanian language alongside the Macedonian one, along with other problems.
US ambassador Paul Wohlers called on political and institutional leaders in the country to contribute in order to build up better cross ethnic relations and the solution of problems of this nature. But, in spite of these calls, politicians and officials hesitate in taking measures in order to solve problems relating to cross ethnic relations.
Experts of cross ethnic affairs say that the message of the US ambassador must be taken more seriously.
"Cross ethnic relations have always been a source of crises, therefore institutions have an obligation to work in order to solve problems, above all, problems relating to cross ethnic relations", says Vlado Dimovski from the Center for Cross Ethnic Tolerance.
According to him, state institutions must build and cultivate cohabitation and not stretch out the solution of problems.
"We have said in numerous occasions that cross ethnic relations are very important for the future of the country and this must be understood by everyone. We must not allow western diplomats to do this", said Dimovski.
Dzabir Deralla from "Civil", a non government organization, which deals with projects relating to cross ethnic relations, told IBNA that tensions would be avoided if institutions were interested to do this and which in this case, are not.
"We have situations where a large number of people take on the streets, destroy everything and even commit murder, depending on the orders that they receive. These situations can be easily controlled, unless it's not convenient for the power", says Deralla.
Albert Musliu, expert of political affairs and head of "Democratic Incentive" association, which deals with projects that aim at bringing communities closer to each other, says that FYROM lacks institutions that would deal with the management of cross ethnic crises, as it's the case in developed European countries.
"Cross ethnic relations are of a great importance and our institutions must handle them in a constant way, but unfortunately, this doesn't happen. Cross ethnic relations are often commented when there's an incident, but they are not addressed in an institutional way", said Musliu.
Deputy PM, Musa Xhaferri says that the government is making efforts to improve cross ethnic relations and according to him, this will only be achieved through the full implementation of the Ohrid Agreement, the document which put an end to the 2001 conflict and gave more rights to Albanians.
"The Ohrid Agreement is the basic document which guarantees good cross ethnic relations. But there must also be bridges of communication to consolidate cohabitation between communities in the country", Xhaferri said.
Citizens, on the other hand, claim that they live in harmony with other ethnic groups and that they don't have any problems with their neighbors. Jasna S, a student, told IBNA that she has very good relations with her colleagues and neighbors of different communities, especially Albanians, but according to her, marginalized nationalist groups backed by particular political circles are aiming to destroy these good relations.
"The country that we live in, has traditionally not had any problems between ethnic groups. But in the recent years, this phenomenon is becoming worrying, as given factors are aiming to cause problems in the country, through incidents and deterioration of cross ethnic relations", says Jasna.
The issue of cross ethnic relations has also been addressed by the progress report issued by European Union. The report requires from the institutions of the country to cultivate good relations between communities. /ibna/