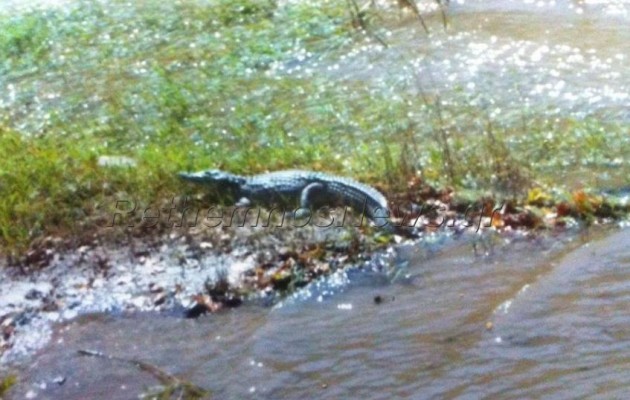 By Spiros Sideris – Athens
The rumors for a crocodile sighting in Rethymnon seems to be true after the official assurances from the services that have undertaken the task to verify the rumors that in the last 24 hours have upseted and made the residents in Crete and elsewhere, curious.
The crocodile, nearly two meters in length, has made ​​its appearance in the dam rivers in Rethymnon and was sighted by accident by a patrol of the Fire Service. Initially, the news that spread mainly through online blogs and Facebook was seen as one of the thousands spam messages with false news and photos. But then the relevant services mobilised to such an extent that they even placed cameras in a large area of the dam in order to identify the crocodile and recorded its movements.
In area is expected in the coming days the herpetologist Museum of Natural History, Mr. Lyberakis to help with his knowledge to the crocodile's identification and course of action. At the same time, the surrounding area where the crocodile was spotted by the firefighters is going to be cut off with a special fence.
Among the speculation on the crocodile's sudden appearance is one that speaks of an owner, who got rid of the crocodile, possibly when he noted how big it grows.
It is worth noting that the last few hours and after a video recorded by area's residents, there are rumors for a second crocodile, which appears (not clear) in the footage, so there is the added anxiety about whether it is a pair of crocodiles, with what this implies if not caught and after some time reproduce.
The answers will be given in the coming days and until then it is wise for citizens to avoid approaching the bed of the dam.