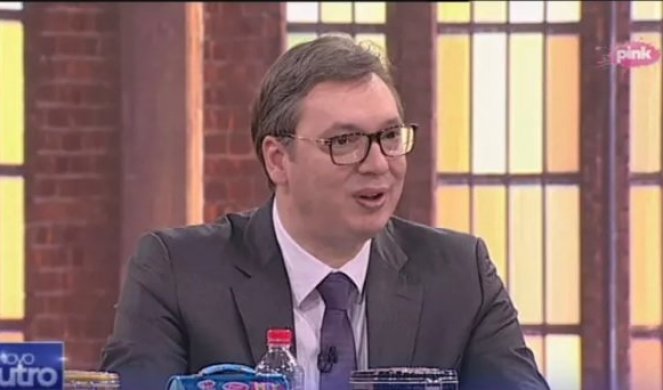 The Serbian president has reiterated his accusations against opposition leaders, using nationalistic rhetoric.
His opponents are, as Aleksandar Vucic said, "thieves" and enjoy support from Zagreb, Sarajevo and Pristina. At the same time, Vucic compared his ongoing campaign "Future of Serbia" with the manifestations organized by Russian president Vladimir Putin.
"I am always available for the citizens, but for those thieves – no", Vucic told Pink television, commenting the actual anti-government protests throughout Serbia.
When asked why opposition leaders have not been imprisoned, if they were thieves, Vucic responded that this was "difficult question". "Because they have infiltrated the whole judicial system", he added.
Vucic's Serbian Progressive Party is ruling since 2012.
Vucic said that opposition "blames its own country for everything" and "say all the worst about their country to foreign media".
Vuk Jeremic, one of opposition leaders, recently said that "Vucic is worse than Milosevic", referring to former autocratic president Slobodan Milosevic who has ruled in 1990s. According to Jeremic, it would be "even worse now" if Vucic had the same military capabilities as Milosevic.
However, Vucic reacted by saying that the military is now "twice as big" than in 1990s.
The president claimed that he is "scared by the nervousness that opposition leaders demonstrate", insinuating that protests could become violent.
He alleged that the "greatest support" to the protests "come from the media from Zagreb, Sarajevo and Pristina", adding that citizens "should think about that".
"What do you think, why is Zagreb cheerful over the downfall of Aleksandar Vucic? Why am I a problem to them? Because Serbia is now stronger than before. I heard complaints from Sarajevo about the Serbian armament. Are you going to forbid us from doing that", Vucic said.
Ranko Pivljanin, journalist of the Blic daily, said that Vucic's campaign "Future of Serbia", in which he visits the municipalities throughout Serbia, represents a "typical electoral campaign".
He labeled the campaign as the "Future of Vucic".
On the other hand, the president compared his campaign with the manifestations organized by his Russian counterpart Vladimir Putin./IBNA