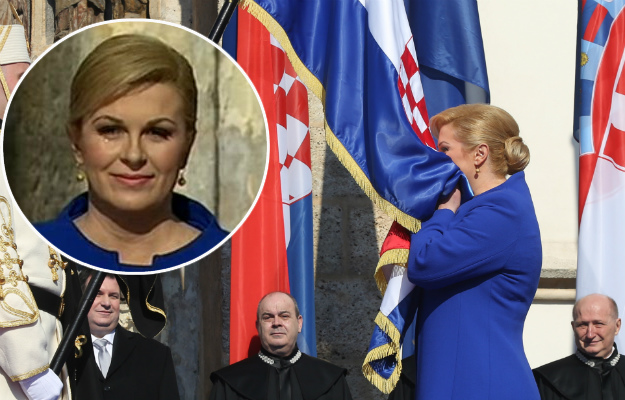 Zagreb, February 16, 2015/ Independent Balkan News Agency
By Marija Avramovic
Kolinda Grabar Kitarovic was sworn in as Croatia's first female president on Sunday and the main messages from her first speech were calls for unity, progress and patriotism.
The inauguration ceremony at a Square in the old part of Zagreb of a former Foreign minister, ambassador to Washington and ex-assistant to the NATO secretary general, was attended by hundreds of citizens and regional officials, among who was the Serbian Prime Minister Aleksandar Vucic.
After taking her oath, Grabar-Kitarovic said she will work on making Croatia- which has a 20 percent unemployment rate and a six-year recession -"a rich state".
The inauguration ceremony was attended by a delegations of 88 countries and international organizations, while the arrival of Vucic is considered a friendly gesture that shows that there is a tendency for normalization of relations between the two countries.
Grabar-Kitarovic is the fourth Croatian president since independence from the former Yugoslavia and the first coming from Croatian Democratic Union (HDZ), since the death of HDZ and modern Croatian state founder Franjo Tudman in 1999.
New Croatian president's standing up for overcoming the divisions in society and her message that she will be the president of all citizens, according to many political analysts, is the result of her sense that  disseverances in society became fierce, so she wanted with such a declaration to close this subject.
Political analyst Zarko Puhovski said that the speech of Grabar-Kitarovic was very reasonable and balanced, but he did not like the fact that among the guests was Tomislav Mercep, who is on trial for war crimes.
Atifete Jahjaga, President of Kosovo, said that this ceremony today was one of the biggest political evolutions in the region and that Croatia should be proud for electing a woman president and put the woman at the center of decision-making.
"Croatia is our great friend, partner and ally, and I look forward to strengthening the relationship and friendship with the president Kitarović and Croatia. We share common values and traditions of independence and interests that will guide us forward", Jahjaga said.
The whole ceremony which cost 600 thousand HRK was secured by 350 police officers, after the ceremony there was a small reception and lunch for some of the 40 invited guests, after which the new president was to have a series of bilateral meetings.