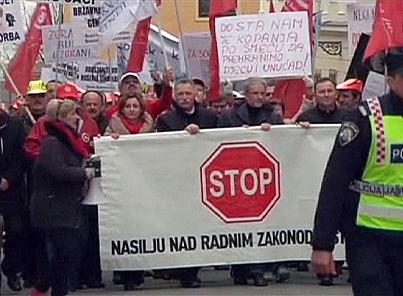 Review Hari Stefanatos
A protest took place outside the government and Parliament building in Zagreb on Wednesday morning, which was organised by five of the country's trade union federations. The protestors attempted to prevent the amendment of the Labour Act, which they argue will serve the interests of employers and big companies, while at the same time resulting in the restriction of workers' rights.
More than a thousand protestors were gathered outside the Parliament building blowing whistles and carrying union signs and banners reading "Stop the violence against labour legislation", "Stop the violence against workers" and "You've fooled us properly", while watching, on a video wall, the government officials of the ruling coalition address the parliament on the need to amend the Labour Act.
The union representatives state that the amendments to the Labour Act were sent to parliament without having been discussed by the social partners and without consensus because the unions' arguments were not accepted. They therefore demand that the government withdraw the amendments, saying that otherwise they will not return to the negotiating table.
According to the unions, the new labour bill will result in a reduction of the price of labour, the introduction of longer working hours, the shortening of the notice for being fired, a restriction to the right to strike, the marginalization of the role of trade unions, and the creation of job insecurity by having workers employed through agencies, while at the same time it will not produce desired effect the government aims for, which is greater competitiveness and more investments.
(Source dalje)