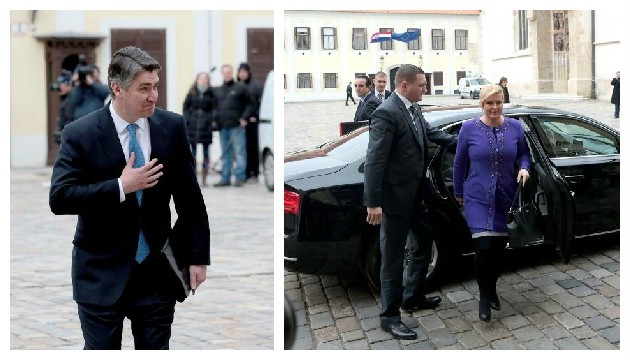 Zagreb, March 12, 2015/ Independent Balkan News Agency
By Marija Avramovic
A session of National Security Council (VNS) was held on Thursday in the building of the Parliament, which was also the first official meeting of President of the State Kolinda Grabar-Kitarovic and Prime Minister Zoran Milanovic.
After the meeting, both of them expressed satisfaction over the meeting of VNS, the first one this year, at which guidelines for the work of security and intelligence agencies in 2015 were adopted and the government was given a task to prepare the National Security Strategy from 2015 to 2024.
"The atmosphere was good, it was the atmosphere of cooperation. Talks on issues of national security with Prime Minister went very well", Grabar Kitarovic told reporters leaving the Parliament.
Asked if today's meeting was a sign of moving towards better cooperation between her and Prime Minister, Grabar-Kitarovic responded positively.
"For me it is. I hope so, because my offer for cooperation is still on the table. I am available for this kind of cooperation and I hope that we will move forward on a positive note", she indicated.
Milanovic called for further cooperation with the President of the Republic, but also reiterated that the government ultimately bears the greatest responsibility, "while President Grabar-Kitarovic in these matters can be of help".
The president said she is still waiting for a response from the government for the session on the topic of the economic situation in the country and added that she does not know why media photographers were not able to record the beginning of the meeting, even though it was her personal proposal.
It is common for photographers and cameramen to attend the start of the session with strong security measures that takes place in the Parliament, but t-portal has learned from sources close to the Office of the President that, at the request of Milanovic, this time it was prohibited and that even the official photographer was prevented from photographing them together today.
While the President expressed her disappointment for this decision, the Prime Minister commented that he was not "even the head the government, let alone of the Parliament" and assessed that the photographs of them together were irrelevant.