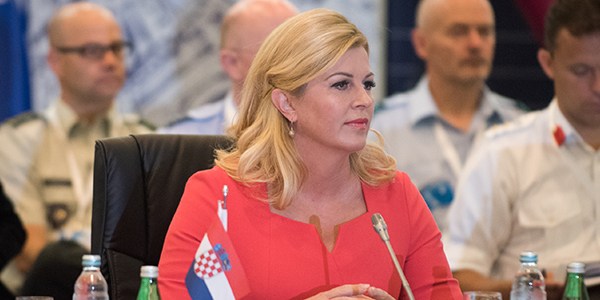 Croatian President Kolinda Grabar-Kitarovic began a five-day official visit to Sweden on Monday by meeting with representatives of the Croatian community in Stockholm.
According to Croatian sources, between 35,000 and 40,000 Croats emigrated to Sweden in three waves in the last century, as economic migrants in the 1960s, as political migrants in the 1970s and fleeing war in Bosnia and Herzegovina in the 1990s.
Speaking of a poor demographic situation in Croatia, Grabar-Kitarovic said that the country was "ageing and dying" and needed people, including returnees from the diaspora. She said it was up to Croatia to provide them with the standard of living they have in Sweden. "It is up to us to ensure your return, your integration in the homeland and the fullness of life you have in Sweden."
She presented high state decorations to Stjepan Biletic, a priest who has been leading the Croatian Catholic Mission in Stockholm for 40 years, and Diana Vukusic, president of the federation of Croatian associations in Sweden.
"Four generations of Croats have been participating in the building of their new homeland for nearly 60 years, cherishing their Croatian identity. We remain what we are, mindful that desirable integration does not become undesirable assimilation," Vukusic said.
Biletic said he was proud to have been with his people "in moments of both sadness and joy, sharing both the good and bad with them."
Grabar-Kitarovic begins the official part of her visit on Tuesday. She is scheduled to meet with King Gustaf XVI and Queen Silvia, Prime Minister Stefan Lovfen, Parliament Speaker Urban Ahlin, and Defence Minister Peter Hultqvist.
The Croatian president is also due to visit Swedish telecoms giant Ericsson, the owner of Croatia's most successful ICT company, Ericsson Nikola Tesla./IBNA
Source: eblnews.com