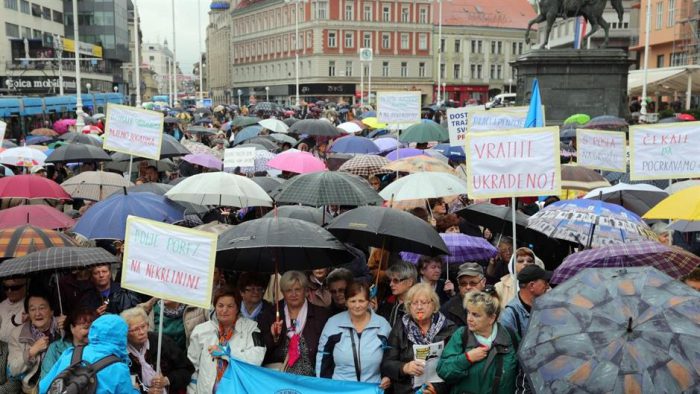 The ailing pension system of Croatia has been poisoning the local society and is burdening the government which, as experts say, is trying to solve the problem the wrong way.
One of the most prickly sides of it has to do with the ratio between working people and pensioners.
Nowadays, every retiree in the country has 1.16 workers to cover the required pension, while government plans that aim to underpin the present gap by stricter measures against those seeking early retirement –before the age of 65, are not considered a smart option. Specialists say they will not "stop the ratio from getting worse", fearing that the new measures will be as unsuccessful as recent ones.
The previous year, numbers spoke for themselves pointing at the bigger picture as regards to the mishandling of the matter by the Croatian leadership. Pensions cost about 4.9 billion euros, working people paid 2.7 billion euros to the retirement fund and the state budget was used to bridge the economic gap.
Retirees demonstrate against low pensions
In October 2017, pensioners from six Croat towns took to the streets demanding higher pensions. The Croatian Pensioners' Union (SUH) urged the government to take immediate measures for the avoidance of the further impoverishment of retirees, local media reported. As for the competent minister, Marko Pavic, he had said at the time that this would be unrealistic, adding that already there had been an increase (2.75%) this year, the highest in the last decade.
Based on information about the new measures, the government of Croatia is considering clipping the existing 20% lower pension of those who retire before the age of 65, possibly "locking" it at 30%.
BIRN reports that "the introduction of new technology and better security and protection at work, the government wishes to cut around 100 job categories in which employees have an opportunity to retire at a younger age. These include police officers, firefighters, workers handling hazardous chemicals and similar jobs."
The SUH is very sceptical about the announced reforms, with its deputy president, Milan Tomicic saying that previous one did not resolve the problem. Quite the contrary, they "further worsened the issue"…/IBNA
Photo (Library): Davor Puklavec/PIXSELL