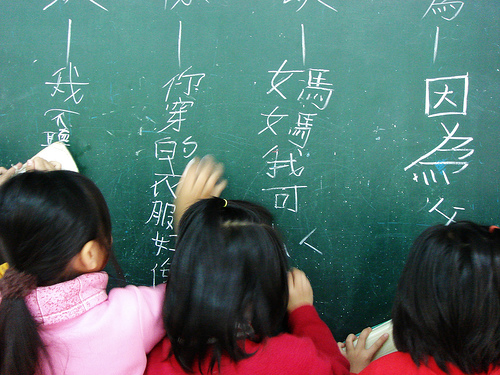 By Natasa Radic – Zagreb
"Ni hao" or "Xie xie", those are the words you might hear in downtown Zagreb if passing hear the Confucius Institute in Croatian capital. It is, of course, just the basic mandarin Chinese, but considering the number of Croatians who want to learn how to read, write and speak Chinese it seems like the 4.3 million people of Croatia want to learn more about 1.3 billion of Chinese.
Confucius Institute at the University of Zagreb was established on May the 13 last year, almost a year ago.
– During this period we enrolled 180 students in Chinese language classes, 110 students in Chinese calligraphy workshops and 25 student in Chinese chess courses. Our volunteer teachers are teaching Chinese language in one primary school in Zagreb and few weeks ago we started with language workshops for primary school pupils in one of the Zagreb City libraries. In cooperation with Department of Kinesiology at the Faculty of Humanities and Social Sciences in Zagreb we managed to include chinese martial arts – taiji and yong chun – and Chinese chess in their program and until now we have more then 60 students involved – says to BalkanEU Kresimir Jurak, the director of the Confucius Institute in Zagreb. He is also thrilled by the fact that the people in Croatia really want to know more about the Chinese culture, language and society.
– We are happy that many people acknowledged the importance of learning Chinese language and culture. Some of them started to learn Chinese language just out of curiosity and finally realizing that China is not just a country with great past but also with prosperous future and that investing in themselves they are actually investing in their own future.
Every Friday Confucius Institute's professors hold lectures in Chinese culture and we are very satisfied with the number of people who attend them. Our lecturers are very keen to bring the breeze of Chinese spirit to our students.
Nearly a month ago we received more then 2.000 books as a donation from Hanban, Chinese National Office for Teaching Chinese as a Foreign Language, so we are now working on establishing a library that will provide a significant source of interesting and informative books to both students and people eager to learn more about China – says Jurak. Additionally, the people from the Insitute are preparing to open Confucius Classrooms in various Croatian cities as a result of increasing interest for learning Chinese language and culture outside of Zagreb.
The main goal in the next 12 month is teaching Chinese language in primary and secondary schools and its introduction into the official school curriculum in the Republic of Croatia.