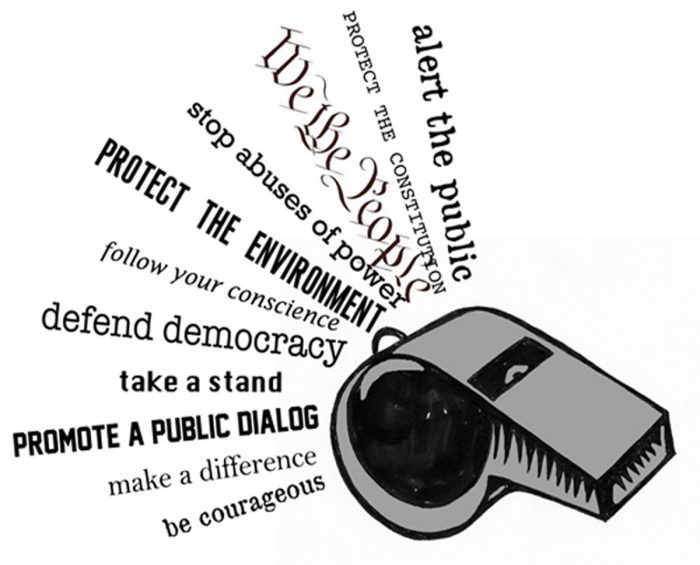 Whistle-blower: a person who tells someone in authority about something illegal that is happening, especially in a government department or a company.
What a "caste" in today's life. Many will think that "snitches" are not needed in democratic societies but others will confront them by saying that, democracy is helped and proved through pluralism.
However, this human batch does exist, wishes to speak out and tell other people about certain ongoing misconduct, which probably affects them hugely, without them knowing but… it is not properly protected by the law.
Recent "infamous" whistleblowers are Chelsea Manninig (2010) with immediate connection to Julian Paul Assange  and Edward Snowden (2013) and Kostas Vaxevanis (2012) who published a "spreadsheet containing roughly 2,000 potential tax evaders with undeclared accounts at Swiss HSBC bank's Geneva branch (…) in his magazine Hot Doc, protesting against the Greek government's failure to launch an investigation."
But, under the present spotlight are found whistleblowers from the wider Balkan region and more specifically, Croatia.
The Croatian leadership has "recently begun the preparatory work to draft a law on the protection of whistleblowers. According to the Action Plan for the Implementation of the Anti-Corruption Strategy for 2015-2020, the law should be approved between September and December 2018."
The members of the OBC Transeuropa think tank, that focuses on South-East Europe, Turkey and the Caucasus and was launched in 2000, are aware that a working group has already been set up, but have not been able to obtain any piece of information from the country's Justice Ministry "on the timing of the preparatory work or the assumptions underlying the draft law."
At the very least, a major gain is that, this anti-corruption strategy acknowledges the importance of whistleblowers in undressing illicit practices in major public as well as private businesses -working closely with state institutions and/or lenders- "and in contributing to enhance transparency and political accountability."
The discussed strategy is proof of how much needed the protection of whistleblowers is, judicially wise. Moreover, the draft law which will be based on the particular strategic planning will reinforce judicial transparency, "enhance the reporting system for illegal conduct, and complete the regulatory framework to safeguard whistleblowers."
The actual insufficiency in the field of protecting whistleblowers has even given life to a coalition, specialised in working to develop a more organised system for their well-being, after they report misconduct, called the Southeast Europe Coalition on Whistleblower Protection.
Founders of the Southeast Europe Coalition for Whistleblower Protection meet in Belgrade, November 2015. (photo: Regional Anti-Corruption Initiative)
Whistleblowers have the same fate in the Czech Republic and are in a slightly better position, thanks to a "a written statement of rights", in Bosnia and Herzegovina.
Hopefully, soon, the future will look brighter for SE European persons who are considering of becoming whistleblowers…/IBNA
Photo: Inavukic.com