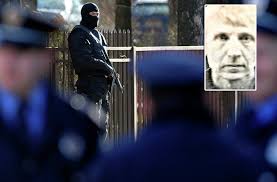 Belgrade, September 5, 2016/Independent Balkan News Agency
By Milos Mitrovic
Cedo Colovic (57), who was arrested last week near Serbian- Croatian border over suspicion that he has been spying Serbia in favor of Zagreb admitted his wrongdoing and reached an agreement with Serbian prosecutor's Office. Serbian media reported today that Colovic, the national of both Serbia and Croatia, has agreed to serve three years in prison.
However, the judge in charge is to decide about the agreement.
The prosecutor has demanded Colovic be remanded due to possibility of escape, as well as influencing witnesses, continue his criminal activity and disturbing the public. The prosecutor's office stated that a person indicted for espionage may be sentenced to more than 10 years in prison.
Prosecutor's office earlier stated that Colovic lived and had a professional career in Croatia until 1990, when he moved to Serbia. Colovic is a retired officer of the former Army of Republic Srpska Krajina. He was arrested when trying to escape to Croatia, Serbian officials said.
According to Serbian media, Colovic has been collecting information for Croatian services "for months and years". This information was allegedly linked with the officers of the former Yugoslav National Army which could be processed by Croatian legal authorities over alleged war crimes.
At the same time, Croatian officials claim that Colovic was not their agent. Croatian technical prime minister Tihomir Oreskovic said that head of Croatian Military Security Information Agency (VSOA) assured him that they did not have any arrangements with Colovic.
A source from Croatian Security Information Agency (SOA) told website index.hr that Colovic was not their agent either.
The spying scandal came amidst permanent tensions between Serbia and Croatia. Earlier this year Croatia temporarily blocked Serbia-EU accession talks demanding from Belgrade to annul its universal law on the prosecution of suspected war crimes.
Last month the Croatian court annulled the sentence to Branimir Glavas, indicted for killing Croatian Serbs in 1991. The Croatian court also rehabilitated Nazi collaborator Aloisius Stepinac.
Over these events and some anti-Serb incidents in Croatia, premier Aleksandar Vucic demanded the reaction of the EU. European Commission head Jean Claude Juncker, however, issued a balanced statement provoking Vucic to say this was "making false symmetries".