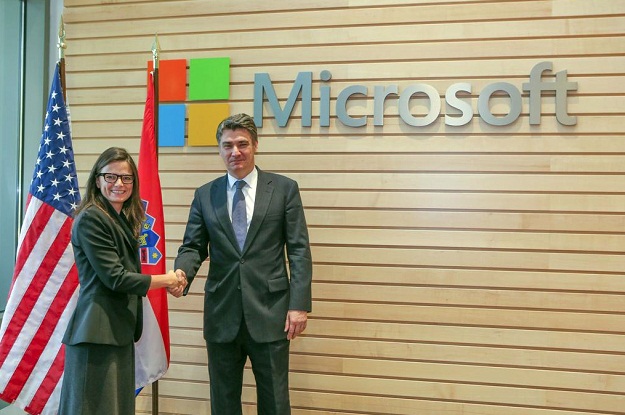 By Marija Avramovic – Zagreb
In the town of Gig Harbor, near Seattle, Prime Minister Zoran Milanovic started yesterday his "American tour", which will last until October 4.
Milanovic met with representatives of the city, which was founded in 1867 by three Croatian immigrants, as well as with representatives of the Croatian community.
"The main purpose of coming to the U.S. and having talks with the Heads of the largest IT companies is to familiarize them with Croatia and Croatian leadership", Milanovic said.
The meeting with the executive vice president and financial director of Microsoft Corporation Amy Hood was an opportunity, as she said, "to discuss the ways in which mobile and 'cloud' technology can support the economic development of any city or state, and indeed have a real impact on the community".
"It's just a concept of the future, knowledge and connections", Milanovic noted, adding that it is exactly connected to the sectors that ware represented by the ministers who are with him in the delegation – minister of health Sinisa Varga and minister of Science, Education and Sports Vedran Mornar.
He estimated that these were serious and thorough partnerships that were already being implemented through the innovation  centers in Croatia, in which Microsoft Croatia was already participating.
Prime minister's visit to the United States sparked some criticism, especially amongst IT experts, who believe that the selection of companies which he will visit is not good and claim that he had to think about visiting Internet giants such as Google or Apple.
They are also questioning whether Croatia has to offer anything to these IT companies at all.
When asked to comment on the negative tone, with which the Croatian public expressed about the visit, Milanovic said that there was malice and ignorance.
"We are in a political situation in which a number of people are not willing to accept the changes that we need, and a number of people are aware of what we do and that is why they are destructive and are attempting to obstruct this. Those who are watching with finger crossed in their pockets what I do here, is the Croatian Democratic Party", Milanovic concluded.