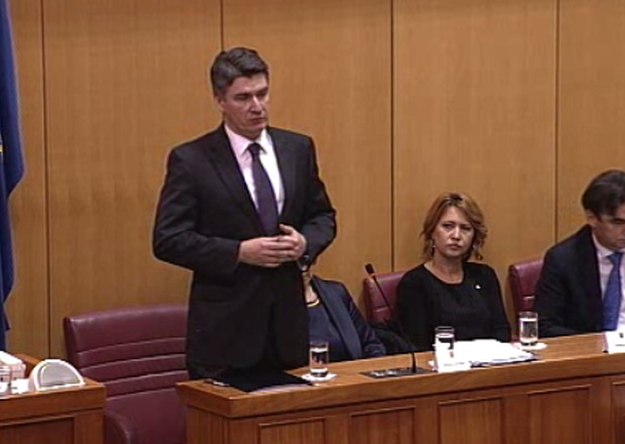 By Marija Avramovic – Zagreb
After a few weeks break, Croatian MPs have returned to Parliament, and according to tradition, the new session began with MPs asking questions to the Prime Minister Zoran Milanovc and the ministers.
Given the difficult economic situation, some of the questions were about the economy, but the Prime Minister could not avoid some pretty awkward questions, such as the question of an independent MP Branko Vuksic about Zagreb Mayor Milan Bandic, who is currently in custody.
"How come you began to feel the stink of corruption only after Bandic ceased being a member of the Social democratic party (SDP)? Is it possible that you, as the president of the SDP and its candidate for prime minister, knew nothing about this, though you should have known? Do you feel at least morally responsible for what was happening in Zagreb, under your auspices, for many years as you say?", Vuksic asked Milanovic.
The Prime Minister replied that he did not know what was happening and that he might know a little more than others about the Bandic case.
'I have never said in any words that the defenders were manipulated. These people have their own reasons which I cannot go into, however, this cannot be the ultimate reason for seeking the resignation of the minister. I invited veterans for talks and told them to return to their families because there was no reason for the protest. We made a promise to the veterans that they would be treated with respect, but we do not accept ultimatums", Prime Minister said when SDP MP Ingrid Anticevic Marinovic asked how  would he find a way out from the 'stalemate' situation since the protest against the Ministry of Veterans have been going on for four weeks.
On the question of whether he'll provide starving children free school meals, Milanovic shocked everyone by answering: "the problem is not the empty stomach, but bad food'.
"Let us not be populists and claim that people today are starving, there is a lot of food, but it's bad, cheap food which is, in the long-term, harmful. If someone really has no meal, centers for social welfare will take care of it", added the Prime Minister.
Milanovic had to answer a not so pleasant question about how come Vojislav Seselj is being released from the detention center of the UN tribunal in Hague, due to his ailing health, while the Croatian generals cannot be treated in Croatia.
"Seselj has publicly called for the extermination and murder. Why was he temporarily released from prison I do not know, but I'm surprised that his trial was not over. As for the inmates in Croatia, they  must be treated respectfully as persons whom the court denied the fundamental human right and that is freedom", Milanovic concluded.