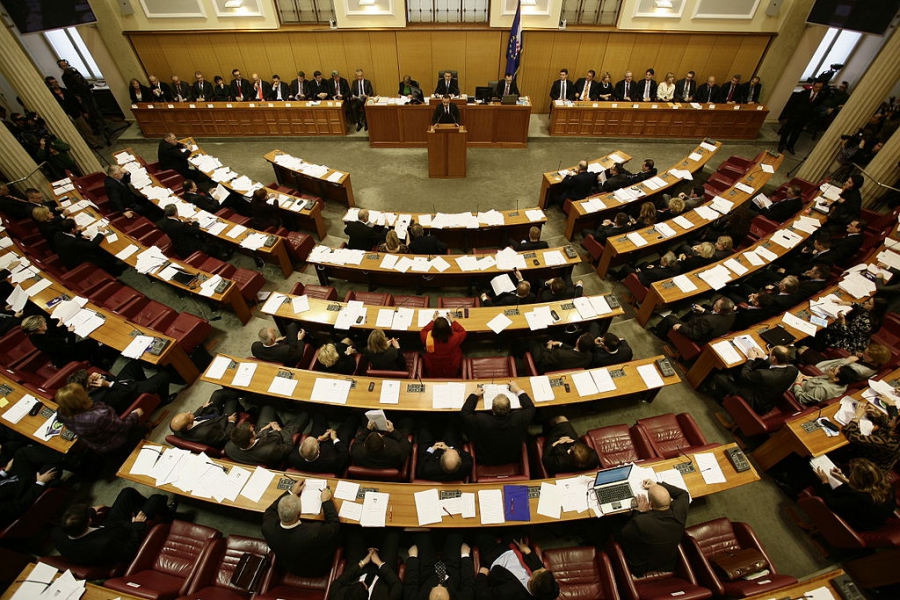 Zagreb, October 14, 2016/Independent Balkan News Agency
The ninth 151-member Croatian Parliament was inaugurated on Friday following the September 11 snap election, and Bozo Petrov of the Bridge party was appointed Speaker of Parliament.
The 37-year-old Petrov was the sole candidate for the post and he received support from 132 lawmakers, 12 abstained from the vote, while one voted against.
Of the 151 elected MPs, 145 attended the start of the inaugural session of the Sabor.
CV of newly-appointed Croatian Parliament Speaker Bozo Petrov
Bozo Petrov, the newly-appointed Speaker of the Croatian Parliament, was born in the southern town of Metkovic on October 16, 1979.
Petrov completed primary school in Metkovic and secondary education at the Franciscan Grammar School in Sinj. He graduated from the Mostar University School of Medicine, from which he also obtained a master's degree. In 2010 he specialised in psychiatry and took up the post of psychiatric specialist at the Clinical Hospital in Mostar, Bosnia and Herzegovina.
After a brief medical career, Petrov became politically involved in local elections in Metkovic in May 2013. As the candidate of the Bridge party, he defeated mayor Stipe Gabric in a run-off receiving 67.9 percent of votes.
After assuming mayoral duties in the economically devastated Metkovic, Petrov slashed his own salary and the salaries of municipal administration staff to the minimum wage, with his deputies working as volunteers. By resorting to radical cuts, he reduced the town's debt from 17.6 million to 6.4 million kuna.
Petrov soon advanced to become the leader of the so-called third way and his party, Bridge, went to parliamentary elections in 2015 with a slate of independent candidates. Bridge captured 19 seats in the 151-seat parliament, emerging as the kingmaker in forming the government. After lengthy negotiations, during which four MPs left the party, Bridge decided to form an alliance with the Patriotic Coalition, led by the Croatian Democratic Union (HDZ), and Petrov became a Deputy Prime Minister in the government of Prime Minister Tihomir Oreskovic.
Petrov resigned as Deputy Prime Minister on Thursday so that he could assume the role of Speaker in the new parliament.
Petrov is married and has three sons.
Source: aboutcroatia.net