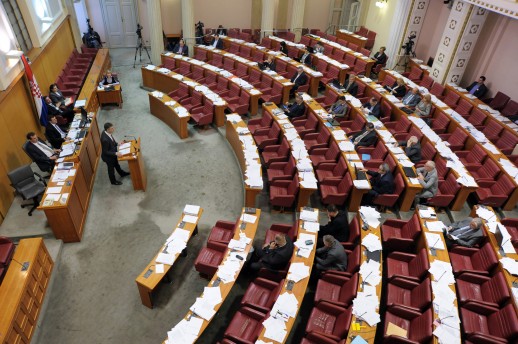 Zagreb, January 23, 2015/ Independent Balkan News Agency
By Marija Avramovic
The Croatian Parliament passed today amendments on the Law on Consumer Credit, which will freeze the Swiss franc at 6.39 kuna for loans in francs and those indexed to the franc, for a period of one year.
Amendments were adopted with 85 votes 'for', one 'against' and one 'restrained', while representatives of the biggest opposition party, Croatian democratic union (HDZ), did not participate in the voting.
House Speaker Josip Leko refused HDZ's request that the Parliament first make a statement on their proposal, which would make the Government and the Croatian National Bank (HNB) come up with a durable solution for the "the Swiss" with the commercial banks within 90 days, but also for loan users in euros and other currencies.
In a telephone session, the government had decided earlier to send to the House a new amendment to the Law on Consumer Credit, according to which the provisions of the law would also refer to the loans in Swiss francs, which exceed one million kuna.
Adoption of this amendment was mainly influenced by the Association Franc, who threatened with mass protests if the government did not withdraw the limit that restricts this measure to loans of up to one million kuna.
Finance Minister Boris Lalovac announced that himself and the governor of HNB have been developing a model on how to reduce the share of these loans, the so-called model of market rent.
"We want to reduce the share of the cost of monthly annuity, which would reduce the uncollected loans and increase consumption, and with it certain tax credits will come. I spoke with the governor on all the options, we need to see what are the positive and negative consequences", Lalovac said and added that he was not going to make hasty decisions when it comes to simple conversion of francs into kuna.