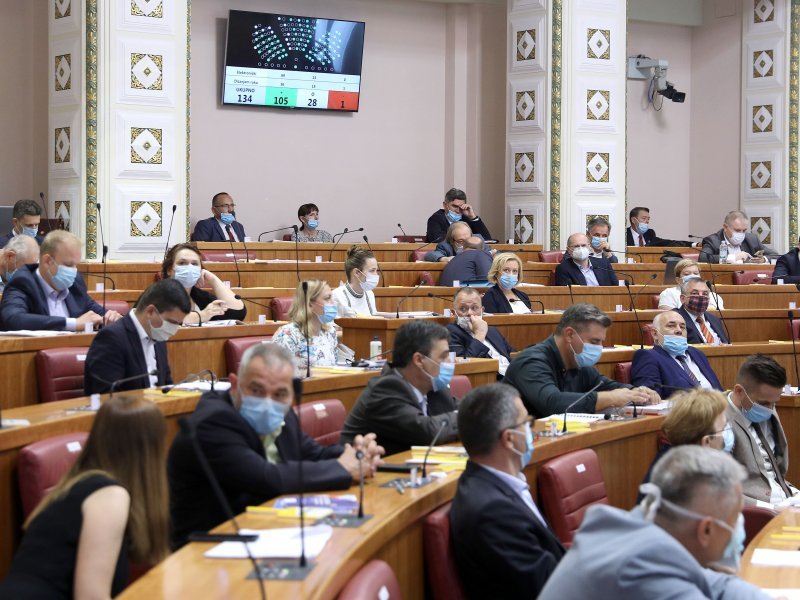 On Wednesday, the Croatian parliament adopted the 2021 state budget and projections for 2022 and 2023, while the opposition, unhappy that only a few of its amendments were adopted, boycotted the vote on the amendments but returned for the vote on the budget.
76 MPs voted in favour, all from the ruling majority, while 49 were against.
The Sabor also approved the financial plans for the extra-budgetary expenditure.
The 2021 budget envisages revenues totalling HRK 147.3 billion and expenditures of HRK 157.9 billion. The government projects economic growth of 5% in 2021, 3.4% in 2022 and 3.1% in 2023.
After this year's HRK 29.5 billion (8% of GDP), general government deficit is forecast at HRK 11.56 billion in 2021 (2.9% of GDP). It is projected to drop to 2.1% in 2022 and to 1.6% in 2023.
Of the 331 amendments submitted to the draft budget, the government endorsed five, with the Parliament ratifying them. They ensure an additional HRK 450,000 for youth violence prevention, HRK 500,000 for shelters for domestic violence victims, HRK 10 million for the reconstruction of the Porec police department building, HRK 1.5 million to help persecuted Christians, and HRK 2 million for the Zabok-Krapina-Slovenian border railway.
The opposition boycotted the vote on the amendments after almost all of those they tabled were rejected, with no majority MPs present during the debate.
"Unfortunately, the ruling party has shown how they understand cooperation and how, when Croatia and the world are facing probably the biggest peacetime crisis since the Second World War, they show readiness to get out of that crisis. Moreover, that cooperation came down to the fact that they accepted only three or four amendments, and rejected everything else," said Peđa Grbin, SDP president. /ibna