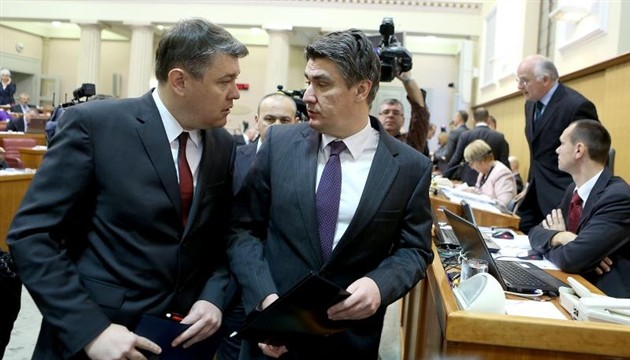 By Marija Avramovic – Zagreb
According to the budget proposal for 2015, which the government has today sent to the Parliament, most ministers will have less money available in their sectors.
Under the proposal, the budget deficit should be reduced by more than 3 billion kuna and amount to about 12 billion kuna.
The proposed budget for the coming year is based on the projection of an economic growth of 0.5%, while for 2016 is predicted growth of 1.3% and in 2017 a growth of 1.5%.
The government expects that the most important positive contribution to economic growth from the increase in exports by 3.6% and gross investments in fixed capital by 1.6%.
When it comes to inflation, the government estimates that its rate for 2015 will be 1.4%.
The biggest loser in the budget proposal is Economy Minister Ivan Vrdoljak, who will see his budget reduced by 13% next year, while the Minister of Science, Education and Sports Vedran Mornar at the last minute managed to convince the Finance minister Boris Łalovic not to cut the education budget by more than 300, but only for 200 million kuna.
Ministry of Finance will realize the biggest savings in the projected budget, since Lalovac will save 585 million kuna on material expenses and intellectual services.
On paper, the Ministry of Health will have to save the most money, about 19 billion kuna, and this is due to the exemption of the Croatian Institute for Health Insurance (HZZO) from the state treasury system starting January 1, 2015.
This way HZZO becomes an outside of the budget state budgetary user, of which the financial plan gets approved by the Croatian Parliament.
Revenues from health insurance contributions, income from participations and supplemental health insurance and other HZZO's income, which are under special regulations, will be excluded from the state budget revenues.
Defence Minister Ante Kotromanovic will have to once again come up with additional savings of 142.5 million kuna, while Ranko Ostojic in the system of the Ministry of Interior will have to cut the costs of this ministry by 2.5%.
Among the winners of the budget distribution precedes is the Minister of Construction Anka Mrak Taritas, since the ministry will have a 17% higher budget, and the reason for this are the costs of damage rehabilitation in the flooded areas.