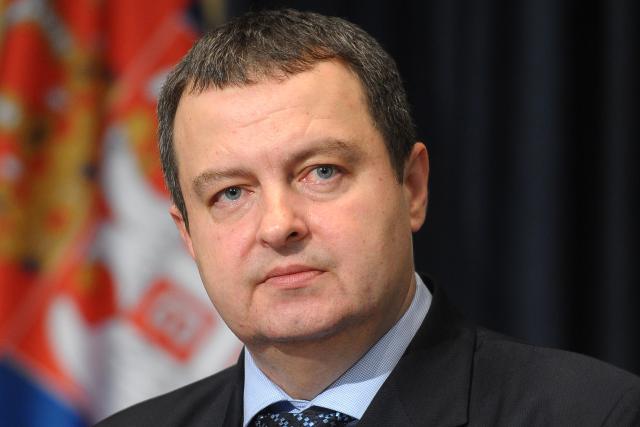 Belgrade, January 4, 2016/ Independent Balkan News Agency
By Milos Mitrovic
The relations between the government of Serbia and the government of Croatia could be better after Croatian Democratic Union (HDZ) has formed new conservative cabinet in Zagreb, Serbian Foreign Minister Ivica Dacic said. Unlike Social-Democratic Party (SDP) which was the main ruling group in Croatia since 2011, HDZ could show "more courage" in resolving certain political issues, Dacic suggested.
Recently, the relations between Serbia and Croatia have been strained especially at the peak of the migrant crisis in August.
"I believe that our relations could be better, and I am certain about it… Perhaps HDZ would have more courage to make certain moves for which SDP was not politically brave enough at some moment", Dacic elaborated. He claimed that outgoing SDP-led Croatian government did not have enough courage because it could have been criticized for the lack of patriotism. However, Dacic was not more specific.
"To us, it's essential to bring our relations into the phase of mutual interest rather than phase of love", Dacic told regional TV N1.
When asked whether he would insist on installing Cyrillic plates in Vukovar, Croatian town with significant ethnic Serbs minority, Serbian FM said he don't consider it "civilizational achievement". "If this represents the problem for the modern Croatia or for the modern Serbia, than I must say that we are going backwards".
Dacic stresses that he respects Croatia as an neighbor of Serbia.
"On the other hand, we don't want to say that we love you. Why? Because, when somebody says that he loves you, he lies, and he will hate you most in the future. We are interested in position of our people in Croatia as well as the position of your people here (in Serbia) Dacic told Croatian reporter.
Commenting Croatia's voting in favor of Kosovo at the international stage, Dacic said it was contrary to the national interests of Serbia. "Therefore, we love you in the same way that we love Papua New Guinea, because the have voted in the same way… Still, I am certain that Serbs and Croats have more things in common than those that divide them", Serbian FM concluded.