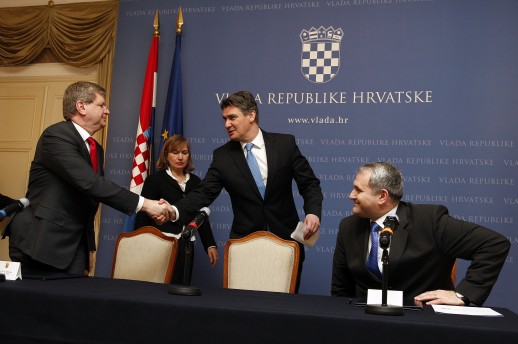 Zagreb, February 26, 2015/ Independent Balkan News Agency
By Marija Avramovic
Mister of Labour and Pension System Mirando Mrsic and General Manager of the Croatian Employers Association (HUP) Davor Majetić signed on Thursday an agreement on cooperation in the implementation of employment program "Guarantees for young people".
This year for the program provided 1.2 billion kuna (156 million euro), with half of the sum coming from the state budget and half from the EU funds.
Prime Minister Zoran Milanovic was also at the signing and he is convinced that the agreement will contribute to reducing youth unemployment in Croatia, which is currently about 50,000 unemployed persons between 15 and 25 years of age.
"In Spain, for instance, there is a large number of those who are now in their late twenties and have not completed their education. For us, regardless of the high percentage of 42% of unemployed youth, the situation is not so bad", the Prime Minister claimed.
He explained that the program is a form of affirmative pressure, because the role of the government, with such measures, is to encourage youth employment, instead of leaving everything to the market.
"It is a political, administrative, but also a demographic measure", Milanovic noted.
As one of the necessary steps to increase employment of young people, the head of HUP regards harmonisation of the education system with the real needs of the labour market.
"The survey showed that 74% of people in educational institutions considers that young people who complete university and high school are ready for the labour market, while at the same time this thinks only 34% of employers and 38% of young people", Majetić warned.
Minister Mrsić reminded of the measures that have produced results, such as youth employment without an employment contract, which so far have employed 37,000 young people, of who more than 60 % received a permanent job with the employer where they were interns.
"Guarantees for young people" stipulates that every young person must be employed within four months after the graduation or the person must be provided an internship, apprenticeship or training.