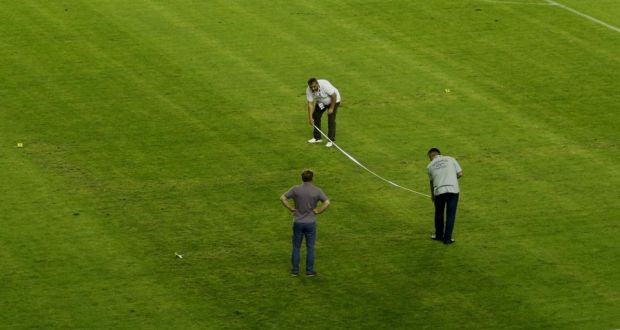 Zagreb, June 17, 2015/ Independent Balkan News Agency
Review Hari Stefanatos
After UEFA launched disciplinary proceedings against Croatia over the large swastika appeared to have been bleached into the turf before their qualifier against Italy, the Croatian Football Federation (HNS), through its website, informed the public on the developments ahead, as well as the facts surrounding the Croatia-Italy Euro 2016 qualifier held at the Poljud stadium in Split last Friday.
The HNS denounced the symbol was spotted during the first half as "an act of sabotage and a felony".
"The Croatian Football Federation did not know about the swastika symbol before the game. The HNS management, its security commissioner, the match manager and other officials received information about the swastika symbol between the 7th and the 11th minute of the first half. All other claims are ill-intentioned and untrue", the HNS said in the statement.
According to the Croatian football federation, 15 minutes before the game, HNS associates received information of an unusual patch of damaged grass, but were unable to spot the symbol since they were on the pitch, thus concluding that the grass was not damaged to the extent that the game should be cancelled.
It was only after the match started that the same HNS associates saw the swastika symbol from the stands and they immediately notified HNS officials about it. The HNS then notified UEFA, the statement said, adding that the HNS has been actively involved in a criminal investigation into the case from the very beginning.
The Italy-Croatia match was played behind closed doors as punishment for racist chants and episodes caused by Croatia fans, which temporarily halted the November match between the two sides at San Siro.
(Source: Dalje)