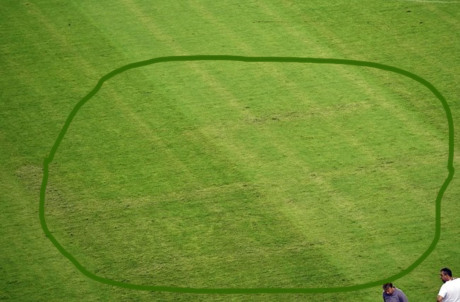 Zagreb, June 15, 2015/ Independent Balkan News Agency
Review Hari Stefanatos
Croatian Football Federation (HNS) president Davor Suker, on Saturday, condemned the incident involving the appearance of a swastika symbol on the turf of the Split stadium during a European qualifier between Croatia and Italy that had taken place Friday evening.
In an extraordinary news conference, Suker expressed his outrage at the incident and stated that the Croatian national team, the HNS, the City of Split and Croatia and its football will win the fight against hooliganism.
Suker said that the HNS leadership would convene Monday to examine whether Split will host Croatia's qualifier game against Bulgaria in October, also calling on law enforcement authorities as well as other authorities to do their best to investigate the incident.
The police are already probing the incident and have pressed charges against unidentified perpetrators.
"Technically speaking, a chemical agent was used on the field 24 to 48 hours before the kick-off, timed to be visible during the qualifying match. During halftime, we tried to remedy the situation to the best of our abilitiy, given the short amount of time", said Pacek's press release.
The Croatian federation immediately notified UEFA of the incident.
"This was an obvious act of sabotage and a criminal act. We condemn it and ask the police and judicial bodies to find the person(s) responsible for what is a shame not only for Croatian football, but the entire country."
"Once again, we express regret and condemn this act, and we apologize to all the viewers, guests and players from both teams," Pacek said in his statement.
Split Mayor Ivo Baldasar also rushed to condemn the incident.
Source: Dalje