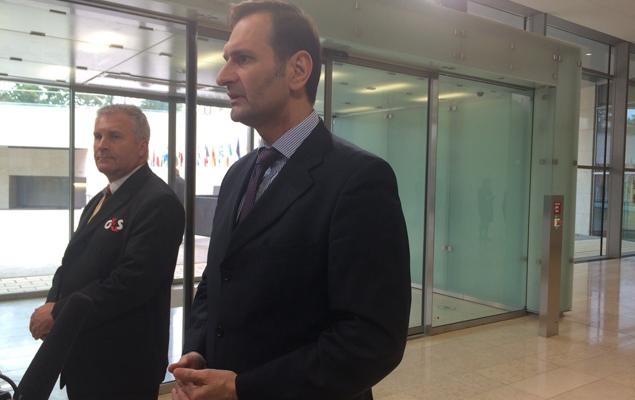 Minister of Foreign and European Affairs Miro Kovač is taking part in a Foreign Affairs Council (FAC) meeting in Luxembourg 17 October 2016.
The EU foreign ministers are expected to focus on the situation in Syria and relations between EU and Tunisia, as well as discuss how to efficiently implement the Global Strategy on Foreign and Security Policy for the European Union. The Council is expected to adopt conclusions on said topics. The ministers will also address migration problems and discuss the EU's measures and priorities in that area.
Miro Kovač said in Luxembourg on Monday that he would brief his EU counterparts of his recent visit to the southern Bosnia and Herzegovina town of Stolac where local elections were interrupted over violent incidents.
"This afternoon I will take the podium and I will underline that I visited Stolac together with Deputy Prime Minister Bozo Petrov, who in the meantime was appointed parliament speaker, and that we talked to Stolac municipal head and gave our support to Bosnia and Herzegovina institutions to investigate the incidents and the attempts to undermine constitutional and legal order in the country and we asked that an investigation be conducted before repeating the elections in Stolac," Kovač said in a break of a meeting of EU ministers who convened in Luxembourg.
Before the break, the ministers adopted conclusions in which they regretted the unlawful referendum in the Republika Srpska and called on the authorities in Bosnia and Herzegovina to launch an investigation into irregularities and violent incidents at the recent local elections.
The conclusions do not specify any incident individually.
Most attention was drawn to an incident in Stolac which led to 27 people being arrested by cantonal police after Democratic Action Party (SDA) member Salmir Kaplan physically attacked members of the local electoral committee. Several activists then removed official election documents and the voting in that constituency was interrupted./IBNA
Photo: www.mvep.hr