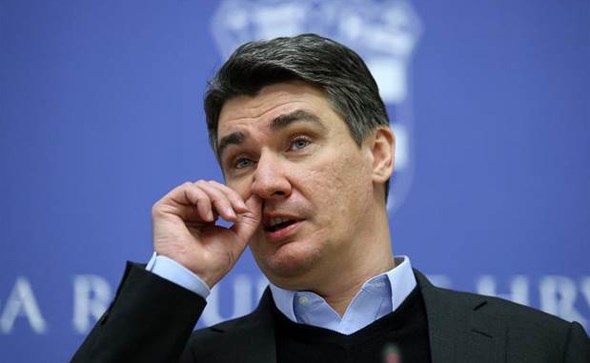 Belgrade, August 26, 2016/Independent Balkan News Agency
By Milos Mitrovic
The latest statements by Zoran Milanovic, the leader of Croatian Social-democratic Party (SDP), have provoked harsh reactions in Serbia, including high official's appeal on European Union to react.
Amidst the campaign for general elections in Croatia, Milanovic made offensive remarks claiming that Serbs are a "handful of miserable people" but they want to be "masters of the Balkans". At the meeting in Zagreb with the veterans of 1990s war, he also called the Serbian government a "bazaar" and promised that, if he becomes prime minister, Croatia would prosecute Serbian nationals over alleged war crimes in Kosovo and Metohija. Recently, the current Croatian government has temporarily blocked Serbia-EU accession negotiations demanding from Belgrade to cancel its universal jurisdiction law for war crimes.
Milanovic's meeting with veterans was allegedly "secretly" taped, and material subsequently leaked to Croatian "Jutarnji list" daily. But Milanovic, Croatian former prime minister, admitted he knew of the recording.
In reaction, Serbian president Tomislav Nikolic said that Milanovic reminds him on Ante Pavelic, head of the World War ll "Independent State of Croatia", installed by Adolf Hitler. Interior Minister Nebojsa Stefanovic demanded from EU to react. This reaction came despite recent prime minister Aleksandar Vucic's "order" to his ministers to refrain from answering on provocations from Croatia.
Vucic's move came in time of extremely frequent arguments between Belgrade and Zagreb, mostly motivated by election campaign in Croatia and Serbian striving to accelerate its accession process with the EU.
Zoran Milanovic appeared on the front pages of all daily papers in Serbia today. The fury of the tabloids was additionally fueled by recent Milanovic's claim that his grandfather was ustasha, a member of Croatian Nazi collaborator movement. "I would like to get drunk of Serbs blood" – this is the sentence attributed to Milanovic in the main headline in central pro-government "Informer".
According to "Kurir", Milanovic is a "Croatian fool, worse than Pavelic". "Milanovic is inspired by Pavelic", state owned "Vecernje novosti" states in its headline.
According to most analysts, Croatian ex-PM's statements reflect his intention to attract conservative right-wing voters, including the very influential war veterans. At the meeting with veterans, he found even more offensive words considering Bosnia and Herzegovina calling it no state and – "big shit".