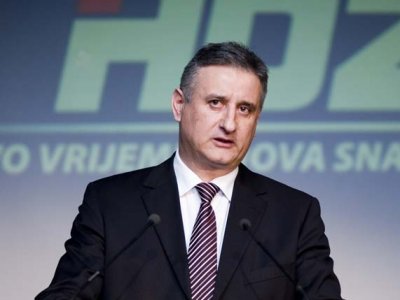 By Marija Avramovic – Zagreb
As part of the celebration of the 25th anniversary of the Croatian Democratic Union (HDZ), exactly at the point where the party was founded, yesterday in Ogulin street at a part of Zagreb called Jarun party, president Tomislav Karamarko and president of the club founders Milan Kovac revealed a memorial plaque with the image of dr. Franjo Tudjman.
On this occasion, Karamarko and Kovac presented the founders of the party, who attended the meeting on the 17th of June in 1989, with silver badges and Acknowledgements. Later, some members of HDZ played a football match against human stars on the field of football club Jarun.
Vladimir Seks, Bozidar Kalmeta, Slavko Goluža, president of the HDZ BiH Dragan Covic and numerous other members also attended this official celebration, writes Vecernji daily.
During the all-day celebration of the 25th anniversary, which began laying wreaths at the altar of the homeland and the tomb of the founder of HDZ dr. Franjo Tudjman, party congress also took place where Karamarko noted that "this is not another, but it is certainly a different HDZ" adding that the party has a historic responsibility – to restore the violated dignity to Croatia.
In his report on the work of the party between the two congresses, which was a kind of an inventory of two years of work, the president of HDZ said that they have undergone the way of the defeated to the victorious party, which has re-established its unity.
Listing the failures of the ruling coalition, he argued that it hadn't done anything in the economy, but in terms of the world view it has done a lot "with its resistance to the Homeland War and patriotism."
The Congress brought together hundreds of party members, and almost all speakers expressed their support for the presidential candidacy of Kolinda Grabar Kitarovic, noting that it was time for Croatia to have a female president.
Support also received HDZ's candidate for mayor of Vukovar, Ivan Penava, who said that after many years Vukovar is back to the HDZ, where it belongs.
"In the election Vukovar people sent a message that they do not want to be hostages of the prime minister's incompetent government, which without dialogue played with our feelings to draw attention from the problems with Europe", Penava said.
"For us, the state does not exist for the sake of the party and politicians. We want HDZ used as a means of economic recovery that will allow everyone a better life. Our plan is economic growth. Croatia must be a country of happy people; that's our task", Karamarko stressed.