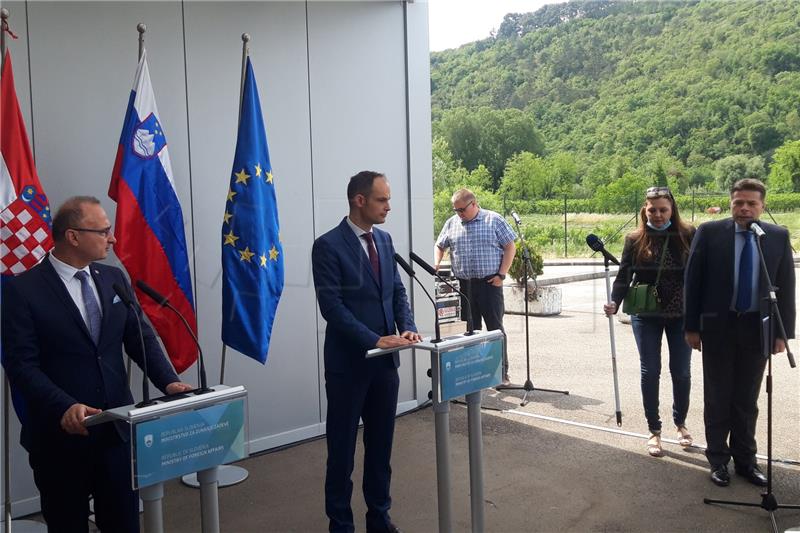 There is no increase in the number of coronavirus patients in Croatia or Slovenia, which allows the two countries to work to ensure that all areas of life are functioning and are carefully resuming to normal, Croatian and Slovenian Foreign Ministers said on Friday at a meeting at the Kastel-Dragonja border crossing point.
"The relations between Croatia and Slovenia are based on long-standing ties that have resulted in successful co-operation. I am pleased that we have a similar epidemiological situation in our countries, which is certainly contributing to the agreement on facilitating cross-border travel", Croatia's Foreign and European Affairs Minister Gordan Grlić Radman stressed at a press conference, adding that both countries had welcomed the European Commission's recommendations on gradually lifting cross-border travel restrictions, introduced in the first place due to the coronavirus.
He also underlined the fact that Croatia and Slovenia had arranged free cargo transit from Croatia to Slovenia and vice versa at the beginning of the pandemic, while they also facilitated cross-border travel for Croatian and Slovenian citizens through bilateral agreements, such as the one made today.
Grlić Radman added that, today, they had a chance to talk about the situation along the border, which affects the lives of citizens living in the area on a daily basis, and concluded that it should be resolved flexibly through partnership, because, as he said, "local matters should be dealt with locally".
"I am convinced that we will cooperate even more closely in the future, that we will respond to all obstacles we might face and that we will co-operate in all areas. I hope we will be as successful as we have been thus far", said Slovenia's Foreign Affairs Minister Anže Logar, for whom this constituted the first official meeting with his Croatian counterpart.
As HINA Agency reports, however, the two foreign ministers have not yet launched the agreement that would additionally facilitate cross-border travel. No possible future measures have been announced either. Those will be presented to the public, Minister Grlić Radman said, once the government and Prime Minister Andrej Plenković have been informed.
To a question by the press, Grlić Radman responded that it was in Croatia's interest for Slovenian citizens to start crossing the border the way they used to. /ibna