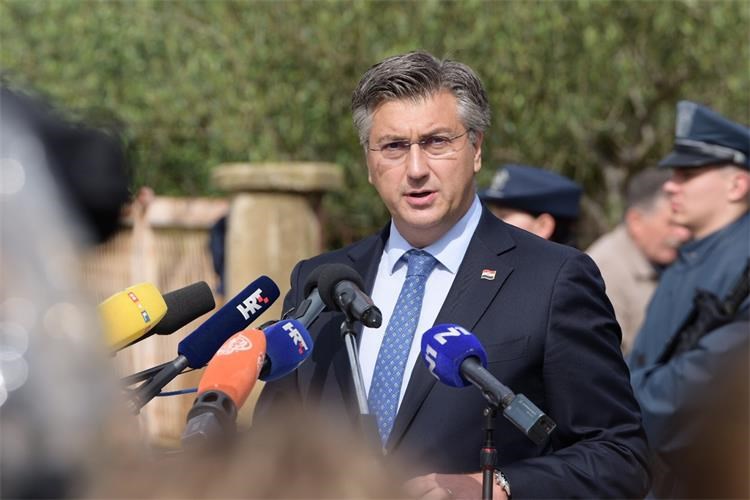 Croatian Prime Minister Andrej Plenković said today, at the commemorative gathering for killed Serb civilians in Varivode near Kistanje, that a serious crime against innocent people was committed in this place 25 years ago, despite the fact that there were no more war actions in that area.
"As the Prime Minister of Croatia, I deeply regret that and express my condolences to the families of the victims," Plenković said at the commemorative gathering for the nine killed Serb civilians in Varivode, organized by the Serbian National Council and the municipality of Kistanje.
He said that he wanted to send a message of peace and reconciliation to members of the Serbian minority, adding that "it also means gaining strength and acknowledging that aggression was committed against Croatia", which deserves unequivocal condemnation.
"That means a clear fence from the then Greater Serbia aggression, in whose name many Croatian citizens were killed, and many crimes went unpunished," Plenković said.
In his speech at the commemoration, the president of the Independent Democratic Serbian Party, Milorad Pupovac, said that two months after the "Storm" operation in Varivode, Gošić and other places, mostly the elderly population was killed.
"There were killings in other places around Knin," Pupovac said, referring to several dozen killed civilians and prisoners of war.
Croatian Deputy Prime Minister Boris Milošević also attended the commemorative gathering.
"This is the first time in 20 years that the Prime Minister is coming to commemorate the victims who died innocently. This strong symbolic gesture shows that these victims deserve empathy and respect and do not differ from all the victims who unfortunately happened throughout Croatia", said Milošević.
He commented on the Prime Minister's statement that Croats should admit that they had committed crimes, just as Serbs should admit that there was resistance to the legitimately elected government.
"That's what I was saying when I went to Knin – that it's time to open those painful topics after 25 years, that it's time to finally hear each other, to hear what we might have put aside, to cover up."
Milošević also expressed hope that the perpetrators of the crime in Varivode would be identified: "Unfortunately, the state failed to act in the right way when the crime took place and, perhaps, in the immediate years after that. There is only hope that those who have knowledge of it will break the silence."
After Varivode, a commemorative gathering for killed Serb civilians was held in the village of Gošić near Kistanje.
Almost two months after the action of the Croatian army and police "Storm", on September 28, 1995, nine residents of Varivode of Serbian nationality were killed.
They were killed by shots at close range on their doorsteps./ibna