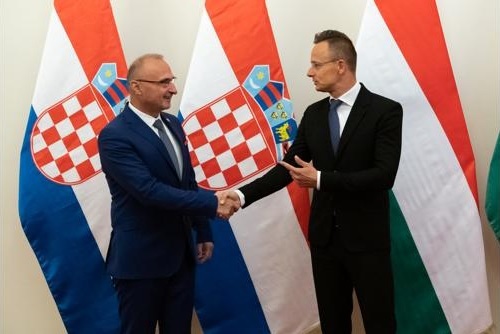 Croatian Foreign and European Affairs Minister Gordan Grlić Radman said in Budapest on Wednesday that Croatia would oppose illegal migration and that "a distinction should be made between those Afghans who helped the European External Action Service and Afghan refugees who are the responsibility of the international community."
"One is the question of the people who helped within the European External Action Service and our soldiers in NATO, to whom we have a certain obligation. The other aspect is the refugees who are burdening the entire international community," said the Croatian minister after meeting with his Hungarian counterpart Peter Szijjarto.
The foreign ministers of Croatia and Hungary discussed, among other things, the crisis in Afghanistan and migration.
"Of course, first of all, it is in our interest for refugees to be deployed to the neighbouring countries of Afghanistan, where they can be provided with their human rights and security," said Grlić Radman.
"What is certain is that Croatia will oppose illegal migration. We do not want 2015 to happen again," said the Croatian minister.
"The issue of refugees must be defined at a general level because it is the responsibility of the international community," Grlić Radman added.
The European External Action Service has called on EU members to accept EU staff from Afghanistan, about 500 local people, mostly translators, logisticians and their families. Croatia will receive 20 people, and Hungary will not receive any so far.
In addition to the Afghan issue, the economic relations between the two countries were also discussed at the meeting.
"The Covid-19 pandemic did not have a negative effect on our economic relations either, which is evident in the stable trend of trade, and tourism has functioned very well this year despite various restrictions," said Grlić Radman.
The Croatian minister is glad that "Hungary has recognized Croatia as a safe holiday destination as it always does" and added that in the first seven months of this year, more Hungarian tourists visited Croatia than in the whole of last year. He believes that this trend continued in August.
The Croatian minister once again thanked Budapest for its help after the earthquake in Sisak-Moslavina County in late December.
After the meeting with Szijjarto, Grlić Radman will participate in the conference of Hungarian ambassadors.