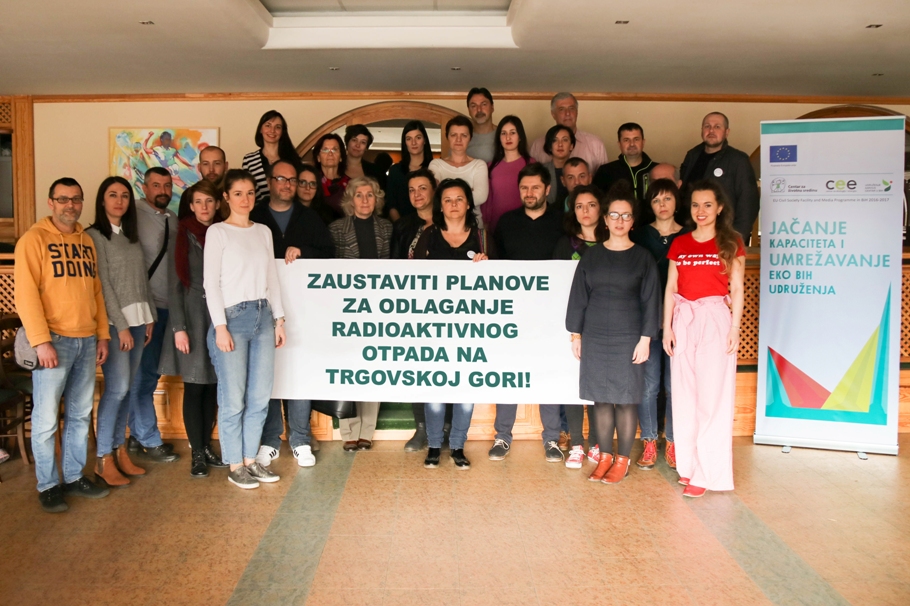 Eko-BiH network has sent an appeal to the highest officials in Croatia and BiH to find a solution about the problem of the nuclear waste landfill on Trgovska Gora area in Croatia, which is near the border with BiH.
"We appeal to the officials of Croatia and Bosnia and Herzegovina for the issue of radioactive waste as soon as possible to find a solution that will not endanger human health and the environment", says in appeal the Eko-BiH network, which includes 26 associations.
Representatives of these organizations gathered recently in Sarajevo. According to the press release, they point out that the pollution and the threat posed by plans for the disposal of radioactive waste at the Trgovska Gora in Croatia, near Novi Grad and the border with Bosnia and Herzegovina, is not only a problem of this municipality and the region but it is much wider.
"Entrance to the Čerkezovac barracks complex at Trgovska Gora, which is planned as the location for the disposal of radioactive waste, is located just 800 meters from the Una River and 1.000 meters from the water catchment for Novi Grad. Out of this water intake drink more than 15.000 citizens, and in the valley of Una live about 230.000 inhabitants. All of them would be directly endangered", warned the Eko-BiH network.
Mario Crnković of the Green Team from Novi Grad, said that the culmination of this problem is visible from documents that leaked in public, from the secret meeting of the Ministry of Defence and the Ministry of Environmental Protection and Energy of the Republic of Croatia, where all the procedures were agreed upon on the handover of the Čerkezovac barracks.
"If it does, the pollution that threatens us will be far bigger than we can imagine. It does not know state and entity borders", Crnković said.
Viktor Bjelić from the Center for Environment emphasizes that the organizations assembled in the Eko-BiH network fully support the Green Team and that they will join them in the fight against this problem.
"The state of Bosnia and Herzegovina must take up the environment and health of its inhabitants, and do everything to ensure that no hazardous waste is disposed of close to its borders. This case is closely followed, and we welcome the efforts of the ministry to find a solution", said Viktor Bjelić from the Center for the Environment.
The environmental organizations of Bosnia and Herzegovina gathered over the weekend to plan the next steps, one of which is support for local communities and organizations fighting harmful activities, such as in this case.
Since the intention of Croatian government about the Trgovska Gora as a place for a nuclear waste landfill was discovered, many voices in BiH shouted against the plan and demanded the respect of international rules on this matter which gives strict definitions on where a facility like that can be located. Republika Srpska Ministry of spatial planning and ecology demands that the area of the Una River be declared Natural Park, so that the nuclear waste landfill must be located a certain distance from it. But, as it seems at the moment, Croatia will continue with its plans and the voices of BiH activists will not be heard./ibna