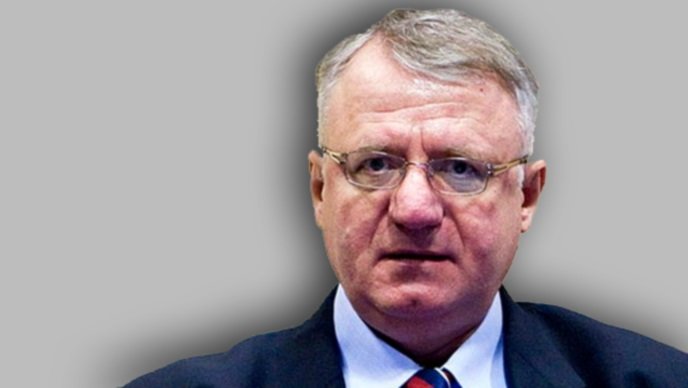 Zagreb, March 30, 2015/ Independent Balkan News Agency
By Marija Avramovic
State president Kolinda Grabar-Kitarovic welcomed the decision of the Appeals Chamber of the Hague Tribunal, which on Monday ordered that the leader of the Serbian Radicals, Vojislav Seselj (photo), accused of war crimes in Croatia, Bosnia and Herzegovina and Vojvodina, be put back in custody in The Hague.
Grabar-Kitarovic said that the decision of the chamber of the International Criminal Tribunal for the former Yugoslavia (ICTY) on the return of Šešelj in prison is the least that could be done at this stage, while the judgment has been awaited for years.
"In the wake of my letter to the Secretary General, I welcome the decision of the Appeals Chamber of the Hague Tribunal to return Vojislav Seselj in detention in The Hague because it is at the least that can be done at this stage and still we are waiting for the final decision of the court. It is clear that he is responsible for war crimes, that he is a war criminal and his place is in the Hague", she pointed out.
Grabar Kitarovic on January 18, in a letter to UN Secretary General Ban Ki-moon, asked him to take all steps needed to ensure that the Hague indictee Vojislav Seselj return to the custody of the Tribunal in The Hague and to immediately render a verdict in his case.
The decision of the ICTY that Vojislav Seselj, who is accuesd for war crimes, should be revoked from the provisional release is great and is in line with what Croatia asked for Seselj's behavior since he was released, said Croatian Deputy Prime Minister and Foreign Minister Vesna Pusic.
Commenting on the decision, Pusic noted that "it is in accordance with the procedure and international legal standards, considering that after his release Seselj was acting very aggressive with his political statements".
"He caused great damage to everyone, and certainly to the relations in the region", Pusic added.