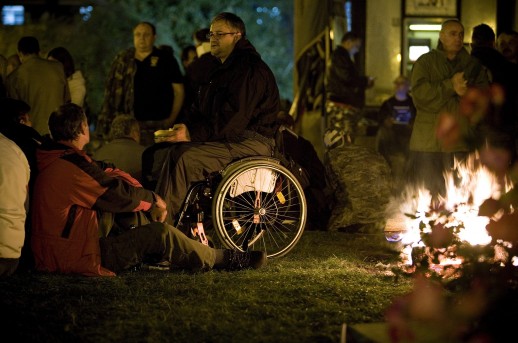 By Marija Avramovic – Zagreb
Late last night, the protest in front of the Ministry of Veterans was marked by the death of a 60-year-old Nevenka Topalusic, 100% disabled war veteran and a member of the 2nd Guards Brigade also known as "Thunders".
The portal of the war veterans on the internet announced that Topalusic after getting seriously injured, as a member of the Thunder, had been on a wheelchair and participated in the protest since its beginning two days ago.
The war veterans gathered to protest outside the Ministry with a minute of silence and lit candles to pay due homage to the deceased.
Protesters continue to proclaim they will remain in front of the Ministry until their requirements are met, which are the dismissal of the Minister of Veterans Predrag Maric, his deputy Vesna Nadj and assistant Bojan Glavasevic.
Veterans are calling them out for not protecting veteran's rights and attempting to equalise the Croatian defenders and aggressors against Croatia.
The protest, which is organized by the Association of 100 percentage Croatian war invalids (HRVI), started on Monday in front of the ministry and was joined by other veterans' associations.
Minister Matic said on yesterday that the protesters, veterans and other Croatian veterans who are gathered in front of the Ministry of Veterans seeking his dismissal and the dismissal of his colleagues, have been manipulated and that he would not resign.
He stressed that there would not be no reduction in pensions and other rights of defenders and that he would resign if the leaders of the associations who are protesting, would collect 250 thousand signatures from veterans, of a total of about half a million registered veterans.
Yesterday there was also a small incident when some of the veterans pushed and poured some water onto assistant Glavasevic.
Members of Croatian democratic union, who visited the protestors last night, supported the veterans and confirmed that at the meeting of the Presidium of the party one of the topics had been the protest.