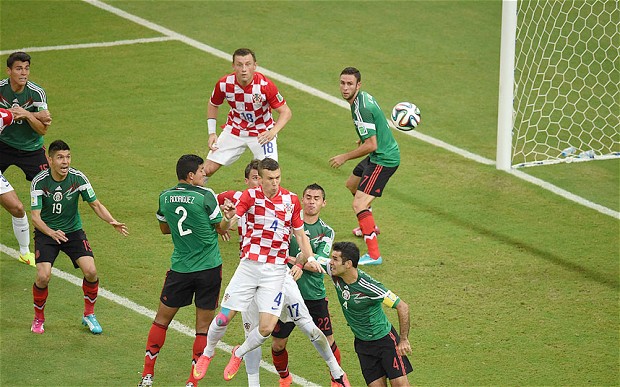 By Marija Avramovic – Zagreb
In the final match before the round of 16 in Recife where the Blazers had to beat Mexico, Croatian footballers suffered a 3-1 defeat.
The game had a physical edge from the opening whistle, almost predictable considering the importance of the game for both teams, but it seems that Croatia started out in a more attacking mode, since they needed a win in order to progress.
In the first 20 minutes of the game Croatia had ball possession of over 60% and looked better on the field. However, as the game progressed it was made clear, this was the only period of the game in which Croatia was better, everything else went to Mexico.
The first half ended with a goalless draw, but the Mexicans performance gave the impression that something was to change in the second half. And it did – after Mexico played for an hour, as if trying to get by, before hitting a tiring Croatia with three goals in the last 20 minutes.
Rafael Marquez scored for Mexico in the 72nd minute and only three minutes later Andres Guardado shook the net of the Croatian goalkeeper to make it 0-2.
After that, Croatia's game completely collapsed, and in 82nd minute Javier Hernandez headed his first goal in an age for Mexico to make it three.
A loud roar was heard in Pemambuco Arena when Mexico appealed for a penalty when Guardado's shot hit Darijo Srna on the arm and the referee refused to give a penalty.
Ivan Perisic did manage to pull a goal back at the end and, in a way, spoil Mexico's perfect night. Ante Rebic managed to blacken Croatia's World Cup exit, after a mere eight minutes on the pitch, with a deserved red card for an unnecessary and harsh foul on Carlos Peña.
In the second game of the group, Brazil beat Cameroon 4-1 securing the top spot in the group with seven points the same as Mexico, but with a better goal difference.
Some Croatian media believe that this is the worst defeat of the current generation, whose members play for some of the best European clubs, but as the Blazers coach Niko Kovac said after the match, "small details have determined the outcome of the game" so when the team heads back to Croatia they'll leave knowing they had produced some fine football in Brazil.