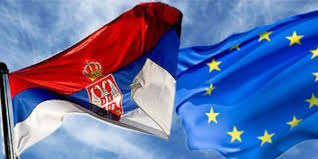 Belgrade, June 27, 2016/Independent Balkan News Agency
By Milos Mitrovic
The European Union member states have not reached the deal on the opening of Chapter 23 in Serbia-EU accession talks, given that Croatia and the United Kingdom did not approved this to be done on June 30, a source from Brussels revealed. Chapter 23 tackles the rule of law domain.
It is possible that its opening would be postponed for July, Radio-television of Serbia (RTS) reports.
While Croatia has blocked Serbia from well-known reasons – demanding the disputes that come from 1990s war to be resolved – the UK did not approve its opening because of its Brexit difficulties, RTS claim.
Allegedly, European Commission and Dutch EU Presidency would continue consultations with Croatia in order consensus to be reached on EU ambassadors meeting on Thursday. This may enable the opening of both Chapter 23 and Chapter 24 (justice, freedom and security) on the same day.
However, European sources say that such a scenario is less likely because negotiating positions have not been changed today; at the same time, time is running. Therefore, it is possible that opening would be postponed for July, when Slovakia takes up the EU Council helm.
Although Croatia earlier approved the continuation of preparations for the opening of Chapter 23, through reaching an agreement with the EC on mutual position, it appears that Zagreb has some additional demands, RTS report. Alongside with the requests for improving the rights of Croatian minority in Serbia and shrinking the jurisdiction of Serbia's war crimes tribunal, Croatia now raises the issue of reparations for war crimes victims and resolving missing persons issues, "which was unacceptable to EC and other EU members".
Earlier today prime minister Aleksandar Vucic rebuffed the idea on an EU referendum in Serbia, inspired by the Brexit. This proposal came from Euro-sceptical Democratic Party of Serbia (DSS).  Vucic firmly said that Serbia would continue its EU path and "struggle for the European values".
"We will do everything to minimize the influence of Brexit", he said.