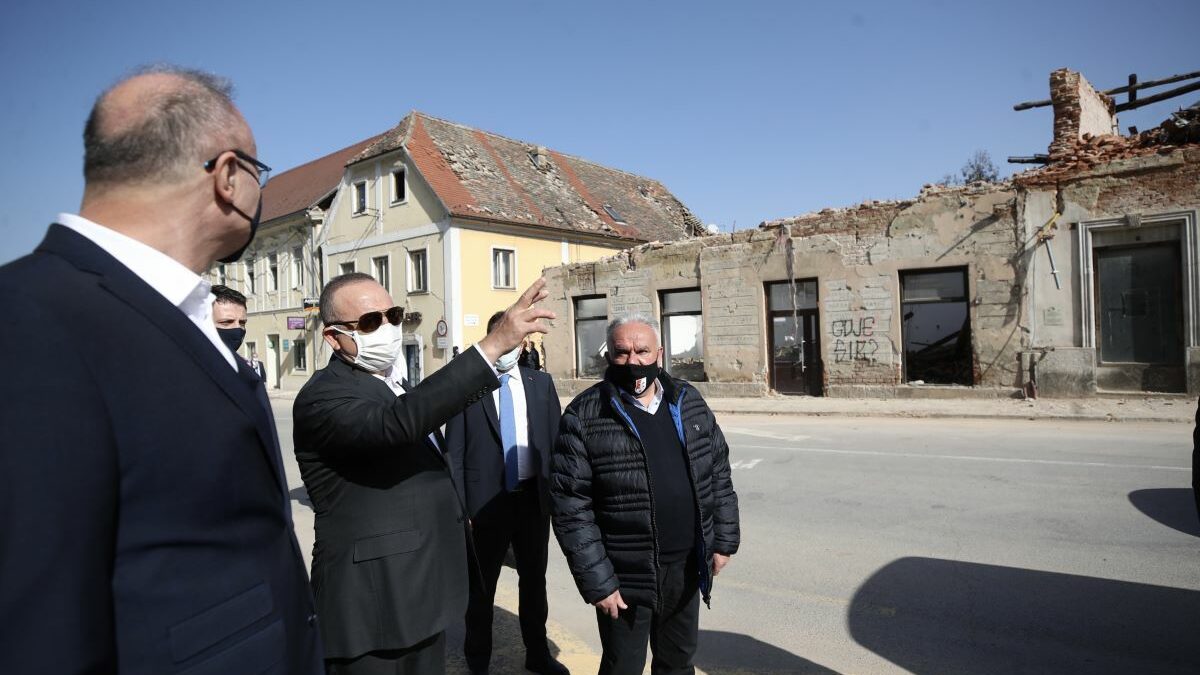 Turkish Foreign Minister Mevlut Cavusoglu visited the city of Petrinja on Friday saying that Turkey, which was one of the first countries to send relief aid to the quake-affected areas in Croatia, was willing to continue its assistance in this region.
Croatian Foreign Minister Gordan Grlić Radman thanked Turkey for the immediate response and delivery of generous humanitarian assistance.
Right after the 29 December strong earthquake hit the Sisak-Moslavina County, leaving seven people dead and causing extensive damage, Turkey sent 272 heaters and 480 tents to the affected region.
The Turkish minister recalled that after Izmir was hit by a magnitude 7.0 quake on 30 October last year resulting in hundreds of casualties, Minister Grlić Radman immediately contacted him to offer assistance.
"With that batch of understanding and friendship, we wanted to be the first to come to your aid," Cavusoglu said. He conveyed Ankara's readiness to help Croatia in future reconstruction projects in this area.
The Turkish official added that his country lies in a seismically active region and has gained experience in dealing with the aftermath of such disasters.
"We shared this destiny with you in a sad and sorrowful way," Cavusogly said.
Ankara has dispatched 10 experts from the Disaster and Emergency Management Authority (AFAD) to Croatia.
Furthermore, 200 prefab housing containers have been delivered from Turkey to Croatia, according to Minister Tomo Medved, head of the task force dealing with the aftermath of the 29 December quake.
Medved expressed gratitude and said he was sure Croatia and Turkey would continue fostering their friendship.
In the Šešerin container settlement, Cavusoglu delivered the keys of the donated containers.
Grlić Radman described the donation as a strong form of solidarity.
The two ministers also spoke about relations with Bosnia and Herzegovina, with Cavusoglu stressing that they had agreed to hold a trilateral meeting between Turkey, BiH and Croatia.
During his visit, Cavusoglu also met with Croatian PM Andrej Plenković.
Cavusoglu is the first Turkish foreign minister to visit Croatia in 12 years.
The Turkish assistance also included the donation of 500 blankets, personal hygiene products and food, as well financial assistance from several Turkish companies. /ibna