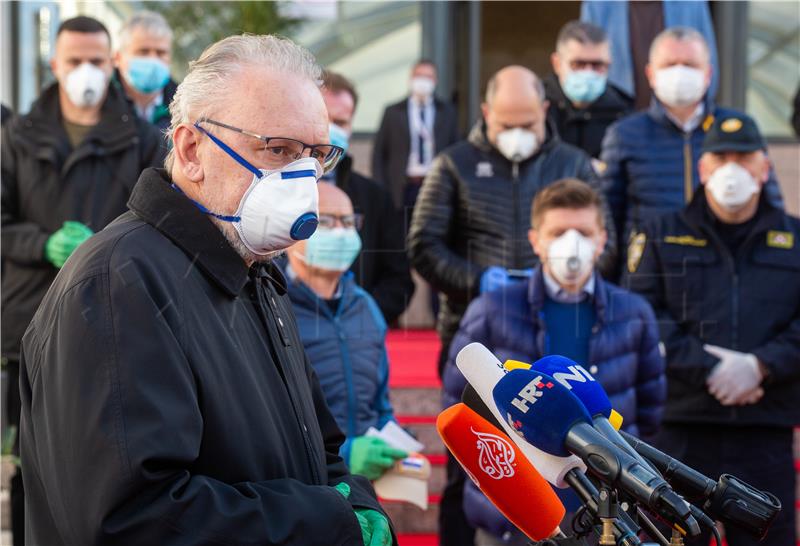 The head of the National Civil Protection Staff, Croatian Interior Minister Davor Božinović, announced on Friday that new holiday epidemiological measures would be imposed from December 23rd to January 8th, including a travel ban between counties and the reintroduction of travel passes.
"Given the epidemiological situation, concessions cannot be an option," Božinović said at a press conference of the National Civil Protection Headquarters. He emphasized that the new measures seek to convey a message that, in this risky period, it is necessary that "the population calms down and visits are limited to a minimum."
At the initiative of the government, a meeting was held with the representatives of the employers' association, and an agreement was reached suggesting that employees should be allowed to use their annual leave over the period from December 23 to January 8.
The extension of the existing measures, which takes effect at midnight on December 21st to January 10th, includes a provision that a maximum of ten people from two different households are allowed at private gatherings.
Whenever possible, mass celebrations should be held by radio, TV or otherwise, and exceptionally on December 24 and 25, according to special recommendations of the CNIPH.
As for professional festivities and programs, the number of attendees is limited depending on the size of the venue, with a minimum distance of seven square meters per person.
Passes will be introduced at midnight on December 23, which shall not apply to essential staff for traffic maintenance, the daily movement of health care employees, the delivery of medicines, utilities, gas and electricity supply, security services, journalists, patients, work-related travel, emergency services to prevent the spread of disease and diplomatic staff.
The passes shall be issued by the county headquarters of civil protection, depending on the place of residence or stay, and will remain in force until January 8, 2021, Božinović said.
The citizens of the city of Zagreb can reach the extreme borders of Zagreb County without a pass. When entering/leaving the district, one should respect the measure and present an ID card that proves the category or the pass.
"This is not a decision to introduce passes, but to ban travel. Passes are used for emergencies and are important for the functioning of the state and society. The point is to give citizens an additional message to refrain from traveling and engaging in celebrations," Božinović stressed.
The intention, he says, is for these to be provisional decisions that will not be extended unless it is necessary due to the epidemiological situation. These decisions could yield results as soon as around January 8, which will be important for the assessment of the epidemiological picture in Croatia. The concession, the minister added, will depend on epidemic trends.
Regarding a question by a journalist on whether and to whom employers should prove that employees cannot work remotely, Božinović said that the headquarters already have inquiries on that track and answers are already being given.
For those who have paid for holiday accommodation, he confirmed that they will be able to go through with their plan.
As for enabling students to travel, he pointed out that they are mostly attending online classes for weeks, if not longer, which means that they are probably not staying at their term address.
When asked what happened to those who have registered residence in one county and place of residence in another, he emphasized that this was a decision to ban departure, and not a ban on return. A residence, he says, has a superior position if it is regulated and permanent.
He also said that he would do everything to get passes as soon as possible, considering that he recently had a similar experience.
Regarding international flights, he pointed out that, provided that they meet the criteria for admission to an international flight, passengers could absolutely reach Zagreb Airport. /ibna