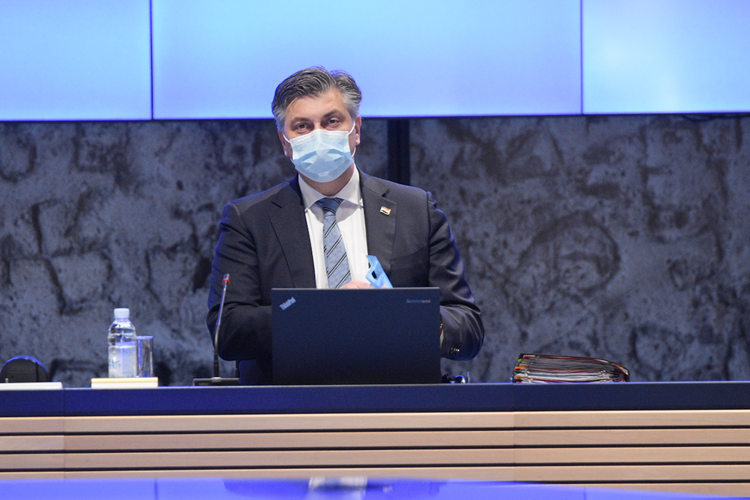 Croatian Prime Minister Andrej Plenković warned today of an increase in the number of newly infected with coronavirus, which is why this country, as he pointed out, will exceed the number of 9,000 deaths in Croatia in a few days. He emphasized the importance of vaccination and adherence to epidemiological measures at the Government session. "Today we have vaccines and there is no reason for the numbers to be this high," he added, reiterating that the vaccine effectively protects against severe forms of the disease.
"We must comply with the basic protection measures – wearing a face mask, keeping a distance, airing the premises, and maintaining hand hygiene," Plenković said.
He stressed the importance and necessity of vaccination, especially for elderly people, noting that the elderly are at greater risk if they contract COVID-19. "One in four elderly persons aged 65 and over have not been vaccinated yet, and we are talking about 238,000 persons or about 25-27 per cent."
He appealed to people who have still not been vaccinated to get vaccinated, citing the views of medical professionals and the government's Scientific Council as well as statistics.
Plenković said that 74 per cent of infected people who have been hospitalized this month were not vaccinated, which is three in four patients, while 80 per cent of patients who were or still are on ventilators were not vaccinated, which is four in five.
"These are very clear and convincing figures," Plenković said, noting that 93 per cent of the people who died from coronavirus were above the age of 60 and 98 per cent were above the age of 50.
He said that the Scientific Council, which met two days ago, stressed the importance of vaccination, especially for the elderly.
"We all agree with the view of the Croatian Public Health Institute on a third dose, that it should be administered to immunocompromised persons and to health and welfare workers because it will help in the fight against the epidemic," the prime minister said.
He said that the situation in Croatia is similar to the rest of the world. "The unvaccinated people represent a pool where the virus spreads the most and where mutations occur the most. It's a fact that vaccinated people can also transmit the virus, but that is less likely than among the unvaccinated, and in the case of infection the disease is much milder."