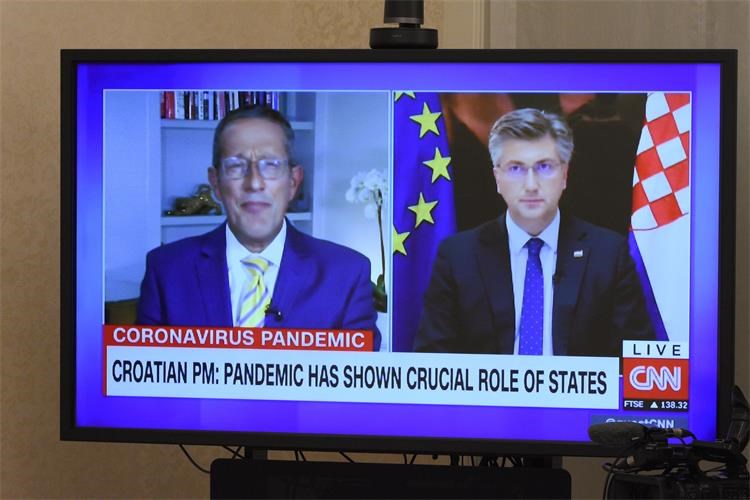 On Monday, Croatian Prime Minister Andrej Plenković, speaking on CNN's business show 'Quest Means Business' to journalist and host Richard Quest, spoke about balancing economic activities and strict epidemiological measures.
About seven million guests arrived in one of the most popular summer destinations in Europe this summer, and the number of overnight stays is 50 percent lower than last year, which was a record.
Asked whether the recent increase in the number of infected people was in some way paying the price for openness during the tourist season, Plenković said that it was a "calculated risk."
"First of all, Croatia had the EU presidency when the epidemic broke out, and we had a lot of work in coordinating EU efforts in the first half of 2020. At first, we had a strict lockdown and at the end of April we opened the borders, then we allowed tourists to come in mid-June. The season was better than expected, and we had record numbers.
But, it is a calculated risk. The numbers of new cases have risen in the last few weeks, but we still have a very low mortality rate. So we managed to make a combination of measures to protect the health of citizens, but also those that have enabled one of the most important economic branches, tourism, to prosper".
"We managed to harmonize the health of our citizens and the income from tourism, one of the most important economic branches", Plenković pointed out.
Plenković believes that neighbouring countries, some of which have put Croatia on the red list, should take into account the epidemiological situation in counties and cities, and not take the whole of Croatia as risky.
"There are counties or cities with an outbreak of the epidemic, and we think that the measures should be aimed at the people who were in those regions. I told that to my Slovenian, Hungarian, Austrian and German colleagues", he said.
The Croatian Prime Minister called for the EU to adopt joint measures against coronavirus, but he believes that the role of the state is the most important.
"The epidemic has proven that the role of the state, and not some other actor, is the most important for the protection of citizens from a pandemic", said the Croatian prime minister.
When asked what the strategy is for the future, Plenković reminded that the new school year has begun and that the coordination of EU countries is needed, as well as the localization of problematic places of infection./ibna