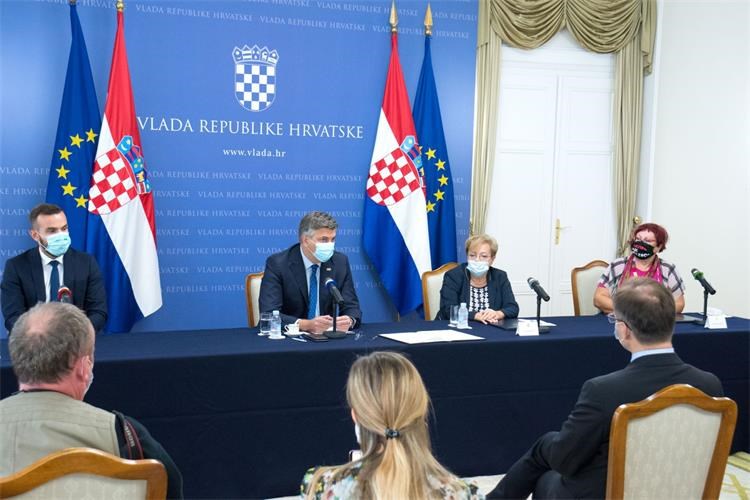 Today, the Prime Minister of Croatia, Andrej Plenković, signed an Agreement with the President of the Croatian Pensioners 'Association, Višnja Fortuna, and the President of the Pensioners' Union, Jasna A. Petrović, on the establishment of the National Council for Pensioners and the Elderly.
At the beginning of the meeting, Plenković expressed his satisfaction with another opportunity in which he could put the rights of older citizens at the forefront.
He pointed out the very successful cooperation so far and quality dialogue when the rights of pensioners were on the agenda.
"We tried to accept in accordance with the economic and financial possibilities everything that was useful and good and that improved the position and material rights of pensioners," he said, adding that one of the last examples was the dialogue on the supplementary health insurance census which achieved a much better situation for pensioners than it was before.
The Prime Minister pointed out some novelties from the pension reform two years ago, such as the possibility for pensioners to work with the simultaneous payment of pensions and the introduction of a more appropriate way of harmonization.
"The results are visible, according to the latest data – at the moment there are 15,500 pensioners who, in addition to receiving a pension, also work. So, that measure had an effect," he said.
Plenković pointed out that the Government will continue to work on improving the position of the retired population and the protection of the elderly, and in this mandate to make additional steps, which are determined as priorities in the Government's program.
"Our goal is to increase pensions by 10 percent by the end of the mandate. In the previous term, we increased pensions by about 12 percent, as well as the lowest pensions by an additional 3 percent through reform. We were especially sensitive there, "he said.
In addition, the Government wants to further expand the circle of retirees who can work and support employees who can and want to, to remain in the world of work even after reaching the age of 65./ibna