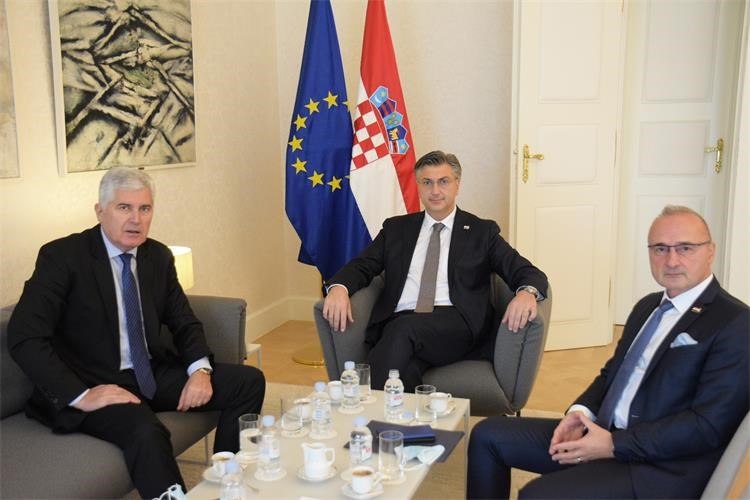 Croatian Prime Minister Andrej Plenković received in Banski dvori the Speaker of the House of Peoples of the Parliamentary Assembly of Bosnia and Herzegovina, Dr Dragan Čović. The Prime Minister was accompanied by Minister of Foreign and European Affairs Gordan Grlić Radman.
"Today's meeting followed a series of talks among BiH political actors, as well as the Croatian government, with representatives of the EU, the US and the international community on reforming BiH election legislation and the importance of removing anomalies that allow political representatives to be imposed in BiH's highest institutions and overcoming the Croatian people by a majority vote.
"Prime Minister Andrej Plenković pointed out that the issue of the position of Croats in BiH is a topic of vital Croatian interest. He emphasized Croatia's support for reaching an agreement between political parties in BiH as soon as possible and the adoption of changes to the Election Law by the end of the year, which will fully respect equality and legitimate representation of constituent peoples in the BiH Presidency and highest institutions," reads a press release issued after the meeting.
The Speaker of the House of Peoples, Dr Dragan Čović, briefed Prime Minister Plenković on current events in BiH and the next steps to reach a final agreement that will enable legitimate political representation in government bodies and institutions as required by the BiH Constitution and decisions of the BiH Constitutional Court and the European Court of Human Rights. Čović opposed all political actors in BiH who are in favour of maintaining the status quo,  which would deepen the current crisis.
At today's meeting, it was emphasized that the concept of constitutive representation of peoples is key to the equality of all three peoples in BiH. It is also the foundation of a constitutional, fair and rational Election Law that will enable the legitimate representation of the constituent peoples in the government and institutions of BiH, as well as active and passive voting rights to all residents of BiH. Interlocutors also expressed the expectation that the activities of the EU and the US would contribute to a constructive atmosphere in the negotiations between the political actors and the reaching of a final agreement.
They also discussed the continuation of BiH's path towards EU and NATO membership, further fight against COVID-19 and economic cooperation.