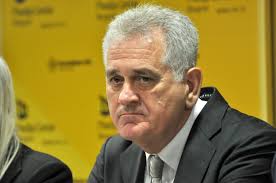 Belgrade, June 29, 2016/Independent Balkan News Agency
By Milos Mitrovic
It is "impossible and unacceptable" that Croatia could stop Serbia from joining the European Union, president Tomislav Nikolic said, adding that Belgrade has fulfilled "all preconditions" for membership. "Whatever we do, Croatia always makes some moves to show that the time has come for it to affect on the destiny of Serbia", Nikolic said in Krusevac on Tuesday.
Earlier this week Croatia and the United Kingdom blocked the opening of two chapters – related to rule of law domain – in Serbia-EU accession talks. While Croatia puts pressure on Belgrade considering the consequences of 1990s war, Britain's move is allegedly linked with the Brexit.
"Fortunately there are reasonable countries within the EU and it is absolutely impossible, unacceptable – and this will not be the case – that one country can stop tanoother, which has fulfilled all preconditions, to join the EU", Nikolic underlined.
The fresh move from Croatia has been done by politicians who "carefully listen to what ultra-nationalists think on some problem", the president suggested. "They are obviously not courageous enough to offer their own politics and say 'why do we quarrel with Serbia again'", he went on.
Earlier in June Serbian prime minister Aleksandar Vucic and Croatian president Kolinda Grabar-Kitarovic met pledging for improvement of the bilateral relations. At the same time, Nikolic was excluded from talks because he was not an "acceptable" partner for Croatian side, Serbian media reported.
When asked why Nikolic was not invited, his cabinet answered that this was a question for Vucic.