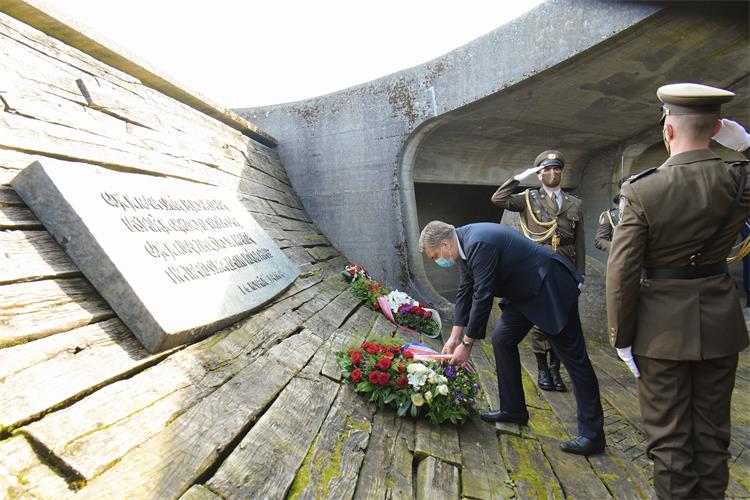 Croatian officials remembered on Thursday the 76th anniversary of the breakout of inmates from the Ustasha-run Jasenovac concentration camp during World War II, yet the tension was palpable.
Croatian President Zoran Milanović extended an invitation to PM Andrej Plenković to lay the wreaths together, which however fell short. Delegations were separated under the COVID protocol pretext.
Prime Minister Andrej Plenković said the WW2 Nazi-style Independent State of Croatia (NDH) was one of the most tragic periods in Croatian history, underlining that the government was clearly against the use of Ustasha symbols.
He stressed that they had come to pay tribute to all victims of the NDH regime and the horrific crimes committed in the Jasenovac concentration camp and other camps against Jews, Serbs, Roma, Croat anti-fascists and democrats.
"That is certainly one of the most tragic periods in Croatian history, and it is important that young generations are aware of these facts (…); that this is a part of our education system and that posterity never forgets the terrible crimes that were committed here and across Europe in similar camps during World War II, and that there is unanimous and unequivocal condemnation of those crimes," the prime minister said.
He added that he would continue to visit Jasenovac with piety and awareness that such crimes must never be allowed to be repeated.
As for amending the Criminal Code to ban Ustasha insignia, Plenković said these were already banned and it was a question of aligning action with court practice.
"This topic has been bugging us for a long time. Everyone who knows anything about our history, about the Jasenovac camp, who understands what those symbols mean for the Jewish, Serb, Roma community or the antifascists, understands that these are not symbols that should be used," Plenković said.
Regarding the initiative by president of the Coordination of Jewish Communities in Croatia Ognjen Kraus to ban the Ustasha salute "For the homeland ready", he said they had talked about it and would continue to discuss it. Furthermore, he stressed that the position of the government was clear and firm when it came to condemning crimes and such symbols.
Croatian President Zoran Milanović also paid tribute, yet separately, at the Stone Flower Memorial. He was accompanied by former presidents Stjepan Mesić and Ivo Josipović, and former prime minister Jadranka Kosor.
"This was an Ustasha camp; the Ustashas are Croats, and since I am a Croat, I can't pretend it doesn't concern me. This was a controversial place, and it is still. One side exaggerates and says that 700,000 people were killed here, but that is not possible. I was here as a high school student and they told us the same thing," Milanović said.
He added that the film "Dara of Jasenovac" was based on a stolen script. "I did not bring a wreath; I brought a rose and a pebble. I am sorry that there were no joint commemorations, this is not a matter of inactivity. The statesman must show emotion, but also act in accordance with expectations. What I heard are poor excuses," Milanović said, commenting on the Prime Minister's refusal to lay a wreath alongside him. /ibna