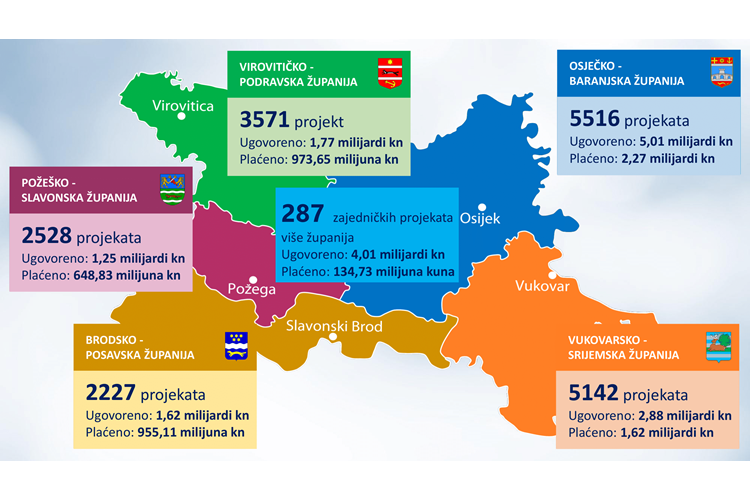 Croatian Prime Minister Andrej Plenković announced today from Našice that HRK 16.53 billion, or 88 percent of the total allocation, has been contracted in the Slavonia, Baranja and Srijem Project so far, while 6.6 billion has been disbursed. This constitutes an increase of 5.2 billion kuna of contracted funds and 2.1 billion disbursed funds, compared to the last session of the Council for Slavonia, Baranja and Srijem.
In his introductory address, Prime Minister Plenković pointed out that 2020 has been one of the most challenging years for Croatia in the past 25 years, due to the incredible health crisis caused by the coronavirus pandemic, its consequences for the Croatian economy and other aspects of social life.
"Despite the coronavirus pandemic, we managed to reduce the expected decline in GDP, by arranging a timely reopening to secure almost 50 percent of last year's tourist season figures this year, to hold the presidency of the EU Council, to enter the European Financial Mechanism II, to form a parliamentary majority in record time following the parliamentary elections, pass a law on reconstruction after the earthquake, and now move on to the Government's planned activities – social security, economic sovereignty, especially in the field of agriculture and energy, and strengthening the country's global visibility", said Prime Minister Plenković.
He added that, for the first time, additional funding has been provided – 22 billion euros from the European budget for the next seven years, which is especially important for the Slavonia project, cohesion policy and policy related to agriculture and rural development.
Plenković also added that they were working on redacting the national development strategy until 2030, because it was set up before the pandemic and the new economic circumstances, and that the finalization of that document was in progress.
The Prime Minister of Croatia announced that the development agreement for Slavonia, Baranja and Srijem would be expanded in order to legalize the changes for already determined projects, and to determine new sources of financing for which funds have not been provided so far.
He also pointed out that development strategic projects will be included in the development agreement comprising around 38 projects worth 10.7 billion kuna.
"We will continue with the project of integrated territorial investments for urban areas, Osijek and Slavonski Brod, continue with the program of integrated, economic and social regeneration of small towns in war-affected areas, as well as the Program of Slavonia, Baranja and Srijem, in order to reduce the development gap", Plenković said.
He added that today's meeting constituted an opportunity to sign as many as 66 contracts, with a total value of 440 million kuna for a number of different projects. /ibna
(1HRK=0,132 EUR)